'Blues won't crack under pressure'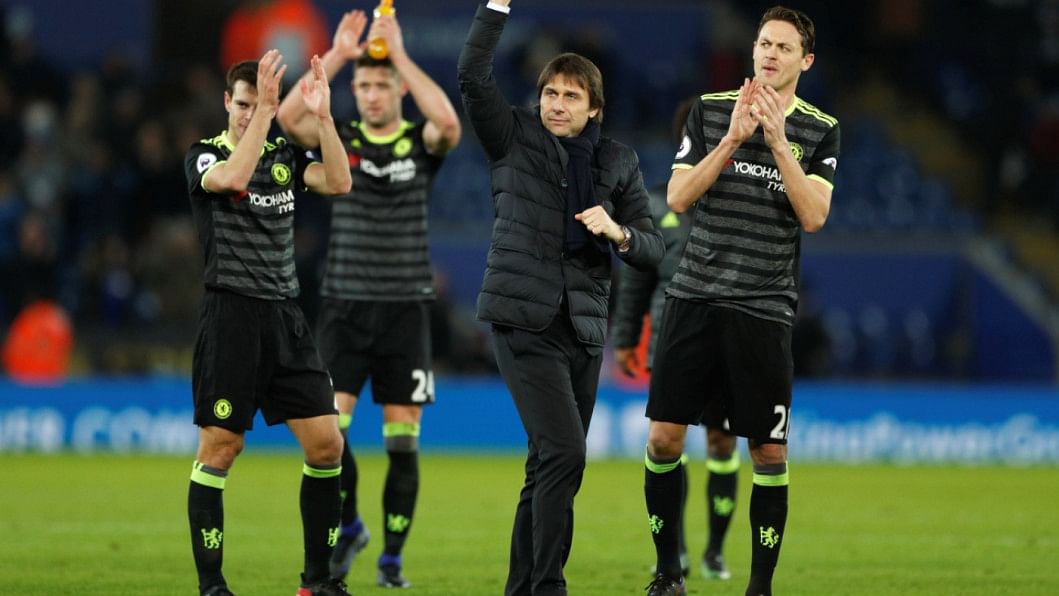 Cesc Fabregas insists Chelsea won't buckle under the strain of Tottenham's relentless pursuit as the Premier League title race ratchets up another notch this weekend.
With just eight games remaining Chelsea are clinging to a precious seven-point lead over second-placed Tottenham, but the Blues are showing a few glimpses of vulnerability.
Antonio Conte's side ground out a barely deserved 2-1 win over Manchester City on Wednesday just days after crashing to a shock 2-1 home defeat against struggling Crystal Palace.
Meanwhile Tottenham have reeled off five successive victories, including an incredible escape act at Swansea on Wednesday when they scored three times in the final minutes to clinch a 3-1 success.
With Chelsea playing on Saturday evening at Bournemouth, Tottenham have the chance to turn up the pressure again by temporarily trimming the lead to four points with a win against Watford at White Hart Lane a few hours earlier.
Chelsea midfielder Fabregas admits his team have been feeling the heat lately, but he is confident the way they recovered from the Palace setback proved title nerves won't trigger a stunning meltdown in the final weeks of the season.
"The result on Saturday put a lot of pressure on us. We know we still have a good advantage, but this is the Premier League and you don't want to be giving points away, especially at home," Fabregas said.
"We have character. We can bounce back at anything that comes in front of us."
The Premier League era is littered with epic collapses from teams who thought the title was theirs and, with Chelsea needing 18 points to be certain of top spot, Fabregas isn't getting carried away yet.
"We've been saying it since the beginning of the season: it's one game at a time," he said.
"We have to worry about ourselves, not what the others are doing. As long as we keep winning then we don't have to worry."
Tottenham's title hopes looked over until Dele Alli equalised in the 88th minute and Son Heung-Min and Christian Eriksen struck in stoppage time to kill off Swansea.
The wild celebrations from boss Mauricio Pochettino, his coaching staff and Tottenham's players and fans underlined their relief at a result that allows them to continue dreaming of a first English title since 1961.
Having choked last season when they failed to catch champions Leicester in the closing weeks, Pochettino's side are back in the hunt and Tottenham defender Jan Vertonghen said: "Chelsea look very strong but we can't stop pushing and dreaming of the league."
FIXTURES

(1400 GMT unless stated):

Saturday

Bournemouth v Chelsea (1630 GMT), Manchester City v Hull, Middlesbrough v Burnley, Stoke v Liverpool, Tottenham v Watford (1130 GMT), West Brom v Southampton, West Ham v Swansea

Sunday

Everton v Leicester (1500 GMT), Sunderland v Manchester United (1330 GMT)

Monday

Crystal Palace v Arsenal (1900 GMT)