AFC's aid plan in motion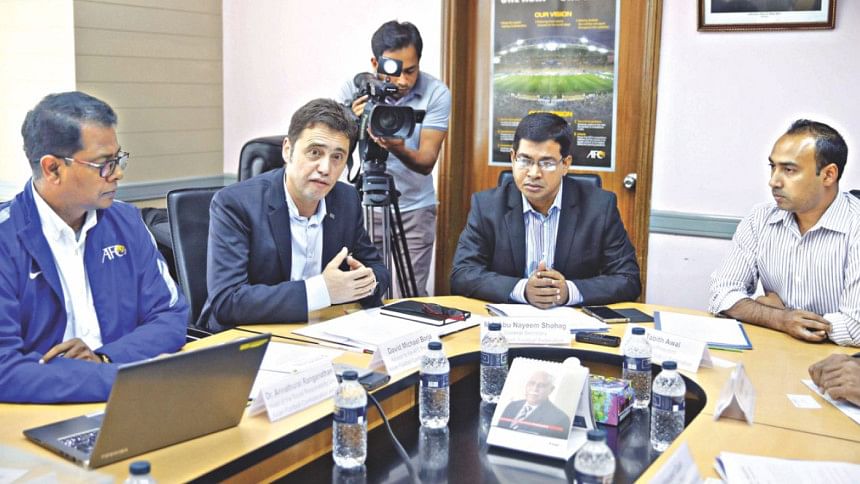 In their quest to aid the displaced Rohingya community in Bangladesh, while working under the social responsibility (SR) committee, two Asian Football Confederation (AFC) representatives held a meeting with the top brass of the Bangladesh Football Federation (BFF), the youth ministry UNHCR and other non-government organizations at the BFF premises yesterday.
David Michael Borja, advisor to the AFC President, and Dr. Annathurai Ranganathan, head of the Social Responsibility unit of the continental football governing body, spoke to BFF vice president Tabith Awal, deputy sports secretary Shoyeb Mahabub, UNHCR protection manager Vincent Gule and representatives of the Jaggo Foundation and Sajeda Foundation during the one-hour long meeting.
"The AFC wants to engage Bangladesh in real social responsibility. AFC had already worked in Lebanon, Malaysia, Nepal, Philippines, Thailand and many of other countries from its 47 members, under the SR committee, which was formed under the guidelines of AFC president Salman Bin Ibrahim Al-Khalifa.
"They want to work here on two aspects -- one is to work with the Rohingya community, in partnership with the United Nations and other stakeholders, and the second one is the host community itself, such as the physically challenged people, women, homeless individuals and slum dwellers and the AFC wants to work with the youth community between the ages 12 to 17. They are planning how to launch social-awareness programmes which can be for physical and mental health or a football perspective," said Tabith, who is also a member of the AFC SR committee.
"Today's meeting was for plan and idea building and tomorrow will be a site-visit at the Kutupalong Rohingya camp. After visiting Kutupalong, the plan will be developed and it will be approved by the SR committee of the AFC," Tabith continued, adding that the AFC has had success with their tailor-made programmes.
BFF general secretary Abu Nayeem Shohag, member Bijon Barua and other government and NGO officials will travel to Kutupalong with the two AFC representatives today.