Deschamps dejected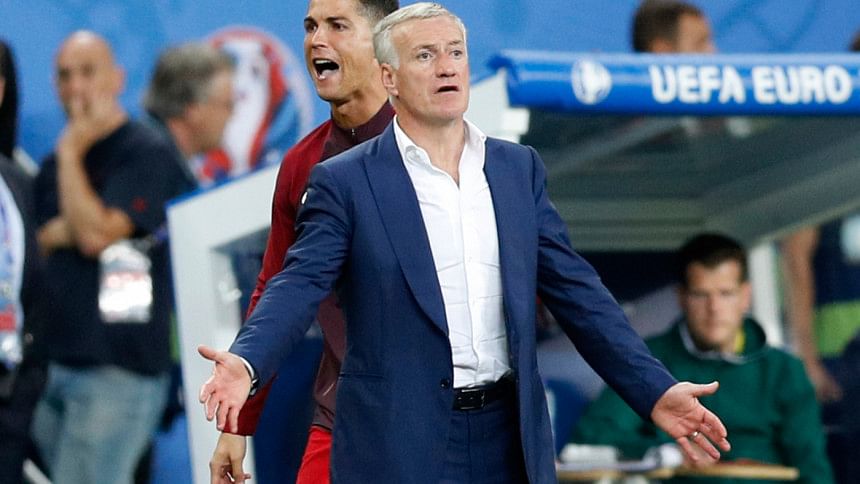 France coach Didier Deschamps did not hide his bitter disappointment after finding himself on the losing end of a final for a change on Sunday.
Deschamps, who knows all about winning title matches having captained France to their 1998 World Cup victory on home soil and the European Championship crown two years later, has never hidden the fact that he hates losing.
"This is a big knock on the head," Deschamps said after Les Bleus' dream of another home triumph in a major tournament ended with a 1-0 defeat in extra-time by Portugal in the Euro 2016 final.
"The main feeling is a terrible disappointment," he said. "I'm sad for my players. There are no words to comfort them. It's tough, real tough. It's hard also for the fans who wanted that trophy so much."
France, who started the game as favourites after a convincing 2-0 win over Germany in the semi-finals, had their chances but failed to surprise a well-organised Portugal team who looked even more compact after losing their top player, Cristiano Ronaldo, through injury midway through the first half.
"We left a lot of energy in the game against Germany and we were probably not as fresh as we needed to be," Deschamps said.
"I can't reproach my players, they gave it all they had but we lacked that bit of luck. We had our chances, it came down to small things but there you go."
France, who scored more goals than any other team in the tournament, lost to a Portugal side who only won one game over 90 minutes.
"Maybe Portugal did not win many matches but they did not make it to the final by accident," Deschamps said. "You can't take anything away from them, they won. Congratulations to them."
The 47-year-old Deschamps, who took over from Laurent Blanc as France coach in 2012, has been given credit for turning France into a strong and cohesive unit.
"There are some positive sides, the atmosphere is totally different but we'll talk about that later," said Deschamps, who is widely expected to remain in charge until after the 2018 World Cup.
"This is cruel and we will all need time to get over it."