Sheikh Kamal International Club Cup 2015
Ctg to renew cross-border rivalry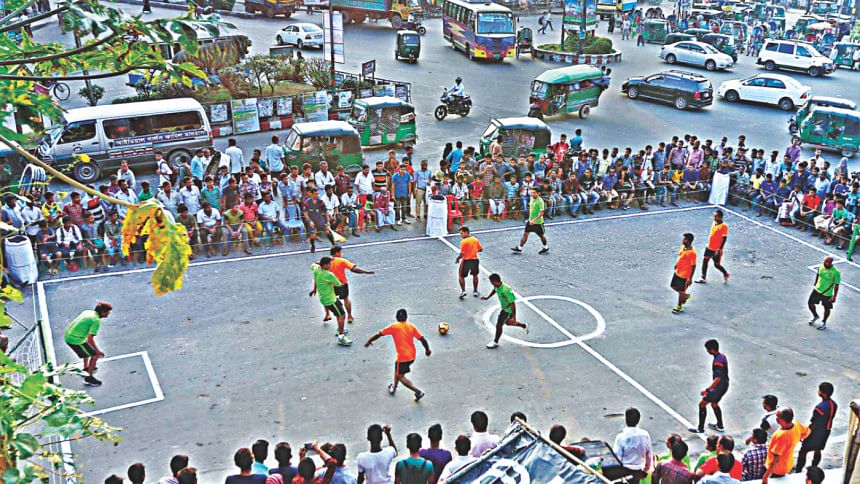 After Australia postponed their scheduled tour, sports lovers in Bangladesh were deprived of enjoying an action-packed October. But for those who love football and desire to be a bit nostalgic, the eight-team invitational football tournament, starting in Chittagong tomorrow, could be a perfect dose.
The reason being that the event will feature the two most popular clubs from across the border -- East Bengal and Mohammedan -- alongside the two traditional giants of Bangladesh. The last time they were here to play the BTC Club Cup in 1992, they returned home empty-handed, leaving the title battle to be decided between the biggest rivals in Bangladesh -- Abahani and Mohammedan. 
Abahani won that title and interestingly, the current tournament named after Abahani's founder Sheikh Kamal, will reignite the cross-border rivalry in a completely changed scenario.
 The Sheikh Kamal International Club Cup, organised by Chittagong Abahani, will also feature Pakistan league champions Karachi Electric FC, Sri Lankan league champions Solid FC and De Spin Ghar Bazan FC of Afghanistan apart from the home team, which will perhaps get the best chance to showcase their credential as a competitive team.
Abahani will kick off the tournament against Karachi Electric while hosts Chittagong Abahani will face East Bengal in the second match under floodlights. Channel 9 will beam all the matches live from the MA Aziz Stadium.
Although five foreign clubs from South Asia are taking part in the meet, the focus will be on East Bengal and Kolkata Mohammedan.
The Indian and Bangladeshi teams  entered a new era of professionalism almost ten years ago but neither of them have faced each other so far even though Bangladesh's new powerhouse Sheikh Jamal Dhanmondi Club played East Bengal, Mohun Bagan and Mohammedan in the last edition of IFA Shield. In that tournament Sheikh Jamal played exceedingly well before losing to Kolkata Mohammedan in the final.
Unfortunately, Sheikh Jamal snubbed this invitational tournament, which could have been more exciting with them.   
"It is a good chance for the spectators to watch teams like East Bengal, Kolkata Mohammedan, Dhaka Abahani and Dhaka Mohammedan from the gallery and they will surely enjoy good fights between the traditional outfits," said former Bangladesh international and BFF vice president Badal Roy while reflecting on his battle against Mohun Bagan wearing the famed Black and White jersey.
"When clubs like Mohammedan or Abahani played against Mohun Bagan and East Bengal during our time, stadiums used to be jam-packed. I hope fans will turn up in Chittagong," added Roy.
Meanwhile, organisers have been working extra hours to make the tournament a success. They have accommodated the eight participating teams at different hotels with security beefed up for the safety of the players and officials.