'Will keep as long as team want me'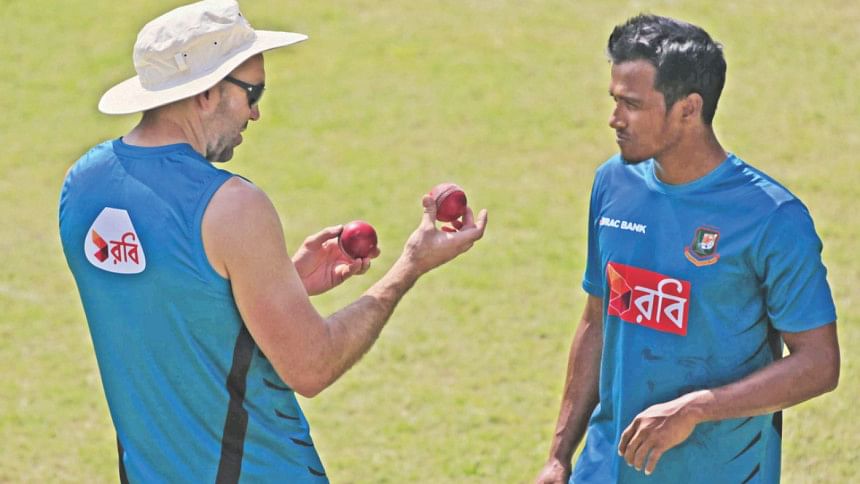 Questions regarding Mushfiqur Rahim's keeping have dominated the fore ever since his performance behind the wickets in the India series.
One would have thought that things would have calmed down a bit a few weeks after the Hyderabad Test, however the scenario, a day before Bangladesh's departure for Sri Lanka, was nothing different.
When asked if he was thinking about his keeping at a press conference yesterday, Mushfiqur gave the example of Wriddhiman Saha.
"To me, Saha at the moment is the number one keeper. I try to follow a few things about him because he looks very neat and clean. But even he dropped two to three catches in the England series. Against us, he missed a stumping off Mahmudullah. Had Mahmudullah drawn the game for us, the situation would have been different.
"Look this is my bread and butter and I won't betray cricket. We all try to be neat and clean, but we are human beings and we are bound to do mistakes," added the skipper.
He further said that he enjoyed the dual role of keeping and batting and believes that this is the best that he can offer the current team.
"I definitely enjoy it. In fact, I would even bowl if my team needed me to, but that won't happen. I try to do the best for my team and the rest is up to the coach and the team management. In the last Asia Cup over here I didn't play as a keeper. So if they think I am not suitable for this role, then they will take a decision," said Mushfiqur.
The skipper, who bats at number six at the moment, was also asked if he wanted to move up the order. Mushfiqur is generally tight-lipped when asked about a shift in the batting order, yesterday though he said that he would actually think about a promotion in the batting order if the team combination required him to.
"At the moment, this team combination is working well. If the top order would have scored, you would not have asked me this question. In the near future, if the situation arises, and I have to go bat up for the team, I am ready," said Mushfiqur.