We need three big innings: Mehedi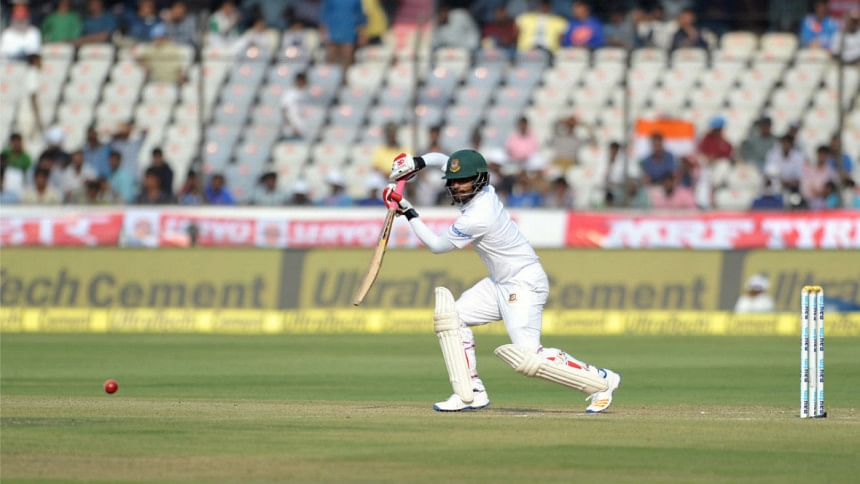 If the first day was a tough one for Bangladesh, the second day was similar but tougher, as the Tigers gave away more chances to get the Indian batsmen out while Virat Kohli romped his way to his fourth double-century.
A score of 687 for six declared is the mountain that Bangladesh's batsman have been asked to climb in the first innings of the one-off Test in Hyderabad, and they will hope that the wicket at the Rajiv Gandhi International Stadium remains good for batting when they resume batting on the third day tomorrow with the score on 41 for the loss of opener Soumya Sarkar. 
"The wicket has been good throughout. There was turn on the odd occasion, but not throughout. Hopefully it will remain that way," said Bangladesh off-spinner Mehedi Hasan Miraz after the day's play. 
After taking 19 wickets in his first two Tests against England in October last year, Miraz has been on a steep learning curve with just four wickets in two Tests in New Zealand and figures of two for 165 from 42 overs here. 
"It was a good experience for me, playing a Test against a team like India," he said. "I bowled the way I wanted to bowl, but there were times when I erred on the short side, but generally I could bowl the way I planned.
"Obviously, I am learning a lot about how to bowl, and I am taking lessons from here. I want to go a long way in international cricket. So if I can apply the lessons from here, then I hope I can be successful." 
The third centurion in the Indian team -- Murali Vijay had scored a ton on the first day -- was wicketkeeper Wriddhiman Saha. He however had his opposite number and Bangladesh captain Mushfiqur Rahim to thank for 100 of his 104 not out. Batting on four, Saha jumped down the crease to hit Taijul Islam over the top and a schoolboy error from Mushfiqur, unable to reach the stumps in two tries to complete a straightforward dismissal, let him off.   
"It used to feel bad. But it's a part of the game," said Miraz about that and other missed opportunities by Bangladesh. "I missed a catch in the practice match, so I understand how bad the fielder feels. Of course it feels a little bad, but I know that he tried but it did not happen." 
On Bangladesh's prospects in the match, Miraz was still hopeful. "I believe that if the senior players on our team -- Tamim [Iqbal] bhai, Mushfiqur bhai, Shakib [Al Hasan] bhai, [Mahmudullah] Riyad bhai -- can bat well there will be some big scores from our team. Our batsmen are in good shape. They played well in New Zealand where we scored 596 runs. If we have three big innings we can score the runs, hopefully."