We all took the easy way out: Tamim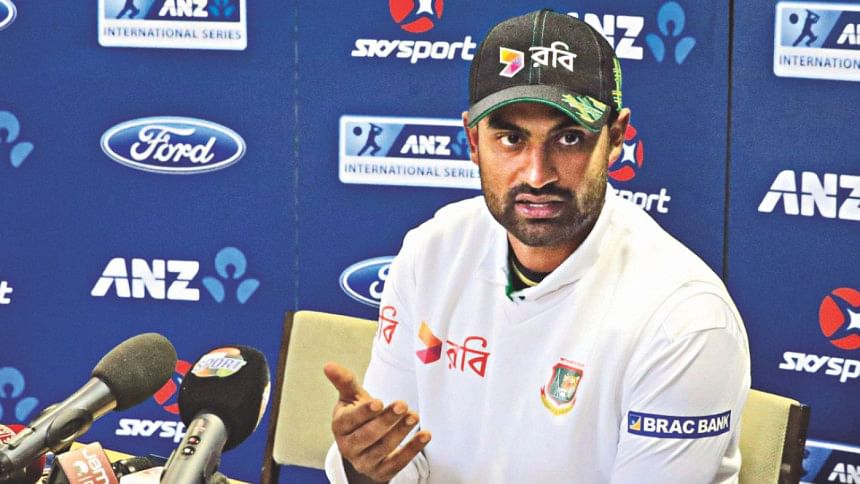 It goes without saying that Bangladesh's New Zealand tour ended on a sour note. Sure, there were a few positives during the series, but at the end of the day the score line reads 8-0 and that is bound to put you down no matter how many double-centuries or record-breaking partnerships you create.
The player who seemed to be feeling the heat the most was none other than stand-in skipper Tamim Iqbal. Speaking at the post-match press conference in Christchurch yesterday, he described his performance as rubbish and said that he had not set the right example on the field as a captain.
"I think we all took the easy option. We were not prepared to do the hard job. That's what it looked like. When this kind of situation comes, people expect, the teammates expect the leader to show the way, which I didn't.
"The way I got out was rubbish, I could have just waited for the bad balls to come and tried to bat for long. If I could have built a partnership around me things could have been different. Few of the shots could have been better played. I take full responsibility because it was my wicket that started the collapse," said Tamim.
"I don't feel like it was a very bad day. I feel that the series ended on a similar note. This was another repeat where we lost yet another good moment. We couldn't finish well despite getting ourselves into a good position. I am the captain of the team and I should have led my team better through my actions, like my batting. I didn't send a good message to the team because of the way I got out.
"I have no complaints with my pacers. Compared to the experience they have they bowled well. Not only bowling, they batted well too. I feel that they worked harder than me, that's how I feel now. They bowled well and batted well," added the emotional skipper.
The left-hander lamented the way some of the senior players got out. He also reckons that Bangladesh need special training on slip catching.
"This wasn't the best series for [Mahmudullah] Riyad. But I guess these things happen. When things don't go for you, then nothing goes your way. It's the same with the other batsmen. I don't think I struggled to bat in a single innings. I was hitting the ball well throughout, but I failed to capitalise on the opportunities.
"Had I struggled and got out, that's understandable. But if you get out when you feel good, that's a crime. As for Shakib [Al Hasan], well the way he got out [slashing outside the off stump], he could have handled the situation better. If you remember his 217, that shot got him plenty of runs. That's his shot, but unfortunately he couldn't execute it well," said Tamim.
"We need to have special training on slip catching, especially for the away series," he added.