Waqar laments Pakistan's 'sad story' exit
An international team is likely to have a few cracks, but Pakistan seem to be sitting on a fault line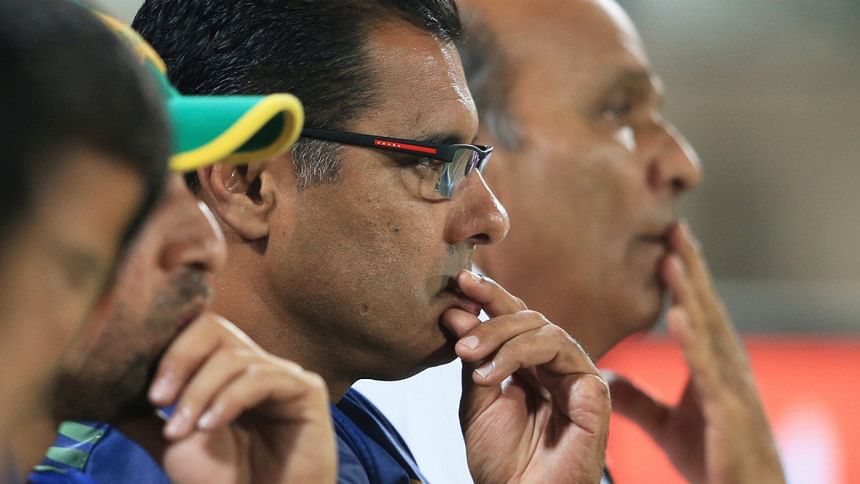 Amid the joyous tumult at the Shere Bangla National Stadium, there were a few quiet voices searching for answers.
"I feel like the batting plan was all over the place," tweeted Wasim Akram after Pakistan were knocked out of the Asia Cup.
"These are the boys we have," said Shahid Afridi but he seemed a bit disappointed by that.

READ more: Tigers maul Pakistan

"You really think so?" wondered Waqar Younis in response to a question that their bowlers had missed an opportunity. They had taken on the defence of a total of 129 in earnest. Mohammad Irfan struck in the second over - that's a tick in the early wicket column. Mohammad Amir spearheaded a hostile takeover of Soumya Sarkar's stumps and then pulled off a coup by toppling Shakib Al Hasan's too - that's the set batsman and historically their best batsman dismissed with the target still 26 runs away and 15 balls to go.
Pakistan's moxie with the ball is expected. It's when they feel at home on a cricket field. But the same ball seems to stupefy them when coming from 22 yards away. Pakistan's opening batsmen have scored 152 runs in six T20Is in 2016, an average of 12.67, including eight scores of 10 or less from the 12 innings at the position with three of those produced by Khurram Manzoor in his T20I tournament debut. Look at that stat from the perspective of the opposition. Taking into account the rate of scoring in the shortest format, that's virtually a wicket within the first two overs.
"Both openers are new for Pakistan, Khurram Manzoor and Sharjeel is coming back after a long time so I think…
"Pitches are helping the bowlers a bit and I think that's put the batsmen in their shell. Even if you look at all the matches, in the first six overs, all the teams have lost two or three wickets. There was the odd innings - Malik played well, today Sarfraz did - but overall, it's been a batting failure for Pakistan."
Shouldn't Pakistan, the team that's played the most number of matches in the format, know their way around by now?
More than the words themselves, the pauses that Waqar had to take seemed to speak louder and it was a recurring theme during the post-match press conference.
"We batted very poorly in the first 10 overs, I think that's where the match was sort of…
"We just gave too much of a lead to them. This should have been easily a 160-170 pitch, but unfortunately losing wickets early on is not helping us. Even in the previous games also [that has happened]. So I guess, bowlers gave their best and tried to pull the game back, and yes it did come toward us for a while, but that's the way Twenty20 cricket works."
But shouldn't Pakistan, the team that's played the most number of matches in the format, know their way around by now?
A lot of their problems seem to point to a lack of depth in their squad. Sharjeel had a strong PSL, but international cricket had found him wanting before and has done so again. Hafeez appears out of form, and copped a poor lbw decision tonight. Umar Akmal plays a fine innings one day and an awful shot the next. Shoaib Malik is left with too much to do. Shahid Afridi has himself admitted his primary role in the team is as a legspinner.
And Sarfraz's innings wasn't necessarily special. In fact, his 58 off 42 balls seemed much like a man trying to siphon the water out of a sinking boat. There was a lot of frantic running, hard-handed hammering and a hopeful look to the heavens when he reached his half-century. It was the end of the 19th over and the score was only 117.
An international team is likely to have a few cracks, but Pakistan seem to be sitting on a fault line.
The first casualty might be Manzoor. He has innings of 10, 0 and 1, and his presence has kept out one of Pakistan's recently regular one-day players Imad Wasim.
"I don't know. It wasn't my decision. Like I've said before, the selectors have taken the decision and whatever the squad I am given, I try to get the best out of them and I guess they will probably look into it. What is necessary, what is unnecessary and then decide."
So will they look at Mohammad Rizwan, who can be a busy player in the middle and an electric fielder wherever he is placed? Or Babar Azam, a former Under-19 captain, who was tipped for success in the international arena? Will they give Ahmed Shehzad another try at the top of the order? Or call up Sohaib Maqsood, who at his best inspired comparisons with Inzamam-ul-Haq? The batting looked helpless on the field, and their coach was left morose at the press conference.
"It is a sad story," Waqar said. If Pakistan want a happy ending, there needs to be a lot of changes both on and off the field.