DPL 2016
Abahani vanquish Victoria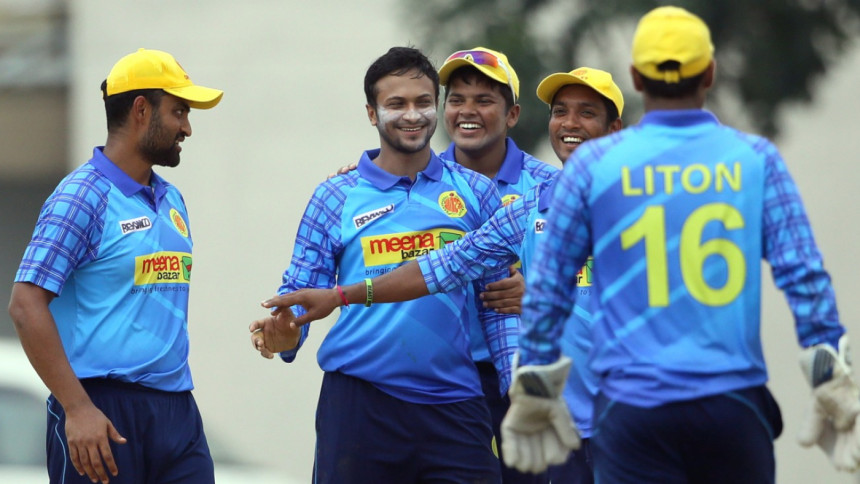 Victoria Sporting Club v Abahani Limited
Abahani Limited led by Tamim Iqbal made short work of Nadif Chowdhury's Victoria Sporting Club and won their match at Mirpur by six wickets today.
Chasing 140 runs for victory, Abahani enjoyed a solid start. Dinesh Karthik and Mosaddek Hossain took their side home with 124 balls remaining in the match. Tamim made 33 while Karthik was 32 not out.
Earlier, the Taskin-Shakib-Saqlain trident of Abahani Limited decimated Victoria Sporting Club to bowl them out for 139 in 36.2 overs.
Abahani captain Tamim Iqbal won the toss and opted to field first. The bowlers vindicated his decision with their penetrative and disciplined performance, and had Victoria tottering at 5-86 inside 19 overs. Although Victoria's tail tried to wag, it was kept in check by Taskin and co.
Saqlain Sajib captured three wickets for 13 in six overs. Shakib snared three for 28 in 8 while Taskin took 3-30 in 8.2 overs. Victoria's sorry batting card features only two scores above 20, many got out after getting starts.
Legends of Rupganj v Prime Bank Cricket Club
In today's Super League match at BKSP, Savar, Legends of Rupganj led by Asif Ahmed came out in front by five wickets against Shuvagata Hom's Prime Bank Cricket Club.
Rupganj rode on half-centuries from Mohammad Mithun, Asif Ahmed and Nahidul Islam's unbeaten 64 from 66 to reach their target of 223 in 46.5 overs. The 2nd stand of 65 followed by a 53-run partnership never allowed Prime bank to come back into the match.
Shuvagata Hom took two wickets while Nazmul, Monir and Taibur captured a wicket each.
Earlier, Rupganj bowlers rose to the occasion and managed to keep Prime Bank Cricket Club to 222 for 8 in 50 overs.
After the initial jolt in the second over, it was slow going for Prime Bank until their 5th wicket stand of 74 in 14.5 overs picked up the pace. Legends of Rupganj bowlers kept taking wickets whenever a partnership seemed threatening, and the fielders contributed with three run-outs to knock the stuffing out of Prime Bank.
Nurul Hasan was the top-scorer for Prime Bank today. His knock of 75 in 96 balls with six fours and a six gave his team's total some degree of respectability. Unmukt Chand, Shuvagata Hom and Taibur Rahman made 30s but got out at the wrong time for their team. Pawan Negi, Rupganj's Indian recruit took two for 30 in 10 overs while Alauddin Babu, Taijul Islam and Nahidul Islam captured a wicket each.
Mohammedan Sporting Club v Prime Doleshwar Sporting Club
Prime Doleshwar Sporting Club pipped Mohammedan Sporting Club by seven wickets with 12 balls to spare at Khan Shaheb Osman Ali Stadium, Fatullah today.
Prime DSC rode on Raqibul Hasan's unbeaten 86 from 127 balls and Nasir Hossain's 52 to reach home without much of a fuss. Raqibul held one end secured and struck five fours and a six in his match-winning innings.
For Mohammedan, Habibur Rahman, Enamul Haque jnr and Faisal Hossain managed to pick up a wicket each.
Mohammedan Sporting Club led by Naeem Islam were all out for 213 runs in 49 overs against Prime Doleshwar Sporting Club. Naeem opted to bat first and his side was at a decent position at 3-129 inside 30 overs. Prime DSC came back into match with wickets, and stalled Mohammedan's innings.
Shykat Ali of Mohammedan notched up his highest score in DPL 2016 with 51 from 76 balls. His half-century contained four hits to the fence. Ariful Haque made 48 from 61.
Four Rupganj bowlers took two wickets each. Sunzamul, Rejaul, Nasir and Rahatul got their names in the wickets-column.
Scores In Brief
Victoria Sporting Club: 139 all out in 36.2 overs (Mominul 23, Suhrawadi 21, Saqlain 3-13)
Abahani Limited: 140 for 4 in 29.2 overs (Tamim 33, Karthik 32, Chaturanga 2-31)
Result: Abahani Limited won by 6 wickets (with 124 balls remaining)
Prime Bank Cricket Club: 222 for 8 in 50.0 overs (Nurul 75, Taibur 35, Negi 2-30)
Legends of Rupganj: 225 for 5 in 46.5 overs (Nahidul 64, Asif 51, Shuvagata 2-22)
Result: Legends of Rupganj won by 5 wickets (with 19 balls remaining)
Mohammedan Sporting Club: 213 all out in 49.0 overs (Shykat 51, Ariful 48, Rahatul 2-32)
Prime DSC: 214 for 3 in 48.0 overs (Raqibul 86*, Nasir 52, Faisal 1-24)
Result: Prime Doleshwar Sporting Club won by 7 wickets (with 12 balls remaining)