Tigers aim for Eden tour de force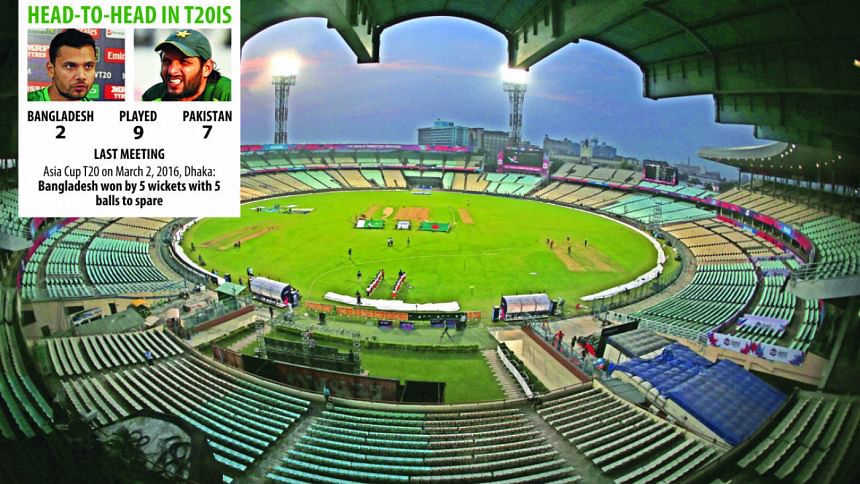 The last time Bangladesh played an international match at the famous Eden Gardens in Kolkata was way back in 1990. It was an Asia Cup one-day match between Bangladesh and Sri Lanka that the latter won by a massive margin of 71 runs. On a personal note it was a memorable game for Athar Ali Khan, the Bangladesh opener who scored a fabulous unbeaten 78.
26 years on, a new generation of Bangladesh cricketers will take the field at the historic venue, facing India's first High Court building, against Pakistan in a different format of the game today.
On that day in December in 1990, when Akram Khan played and scored four, his nephew Tamim Iqbal was only one year old, Shakib Al Hasan and Musfiqur Rahim were only three. Among the present lot, skipper Mashrafe Bin Mortaza, aged seven then, could only understand a bit of cricket. The rest -- like Sabbir Rahman, Mustafizur Rahman and Taskin Ahmed -- were not even born.
Among all the cricketers now representing a vibrant Tigers, only Shakib has the experience of playing at the Eden Gardens, which is the home ground of Kolkata Knight Riders, the IPL franchisee he plays for. Tamim and Mushfiqur was part of the junior team to have played here against the selections of Cricket Association of Bengal (CAB).
But those games or even Shakib's IPL experiences are nothing compared to today's high-octane game against Pakistan, especially following Bangladesh's five straight wins against them in the shorter formats on home soil over the last year.
To play at Eden is a dream for any cricketer and the Bangladesh captain was no exception.
"Of course, Mirpur is my dream venue. But venues like Lord's, MCG and Eden are special grounds for any cricketer. I'm excited to play on this ground and I think the rest of my teammates are equally eager to play a very important match on this ground," said Mashrafe at the pre-match briefing.
But what is the difference between Bangladesh's last game 26 years ago and the one they will play today? Athar Ali Khan can explain it better than anybody else.
"I was lucky that day [to get the man-of-the-match award]. What I remember most was the velvety outfield and once the ball hit through the gap it was four. But this generation of cricketers is completely different. They are an exciting team to watch no matter against whom they are playing," Athar said at Dharamsala airport on Monday.
Truly, this new brand of Tigers is different in mindset -- which is aggressive -- and different in terms of quality, which is versatile, and most importantly loves to take the fight to the best in the business. As a reporter I have travelled frequently in the 90s and have had the experience of attending press briefings where when the opposing captain or coach, while confronted with the question of how big a challenge Bangladesh could pose, irrevocably came up with that clichéd answer: "Oh, they are an up and coming side and we are not taking them lightly."
But at a crowded press briefing at Eden Gardens with Pakistan coach Waqar Younis in attendance, when a Pakistani journalist asked him whether he thought it was a '50-50 match', there was something in the air and nobody thought it was clichéd question.
The home of former Indian captain Saurav Ganguly and of India's most respected and imaginative cricket administrator Jagmohan Dalmiya, Eden is a place where a lot of cricketing history was made and of them all perhaps VVS Laxman's imperious 281 stands out. Whether or not it creates another piece of history, the Bangladesh-Pakistan game will start in earnest with full entertainment value in front of a 68,000-capacity stadium. Perhaps there will be a small measure of disappointment that Bangladesh's best friend on a cricketing plane, Jaguda, who as ICC president was instrumental in Bangladesh's ascension to Test status in 2000, will not be around.