Shakib, Fizz face off in crucial IPL tie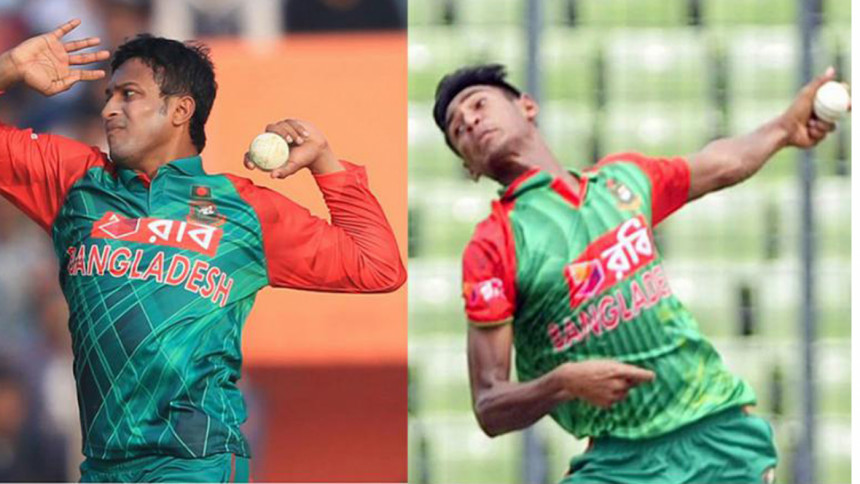 The two cricketers flying the Bangladesh flag in the Indian Premier League (IPL), Kolkata Knight Riders' Shakib Al Hasan and Sunrisers Hyderabad's Mustafizur Rahman, will face off on Sunday in what may be the last match for Kolkata if they fail to beat Hyderabad. The match will take place at the historic Eden Gardens in Kolkata and will start at 4:30 pm BDT.
While Hyderabad currently sit in pole position with 16 points from 13 matches as the league phase draws to a close with the match between Delhi Daredevils and Royal Challengers Bangalore later today, Kolkata -- on 14 points along with Delhi and Bangalore -- will need to win to be sure of finishing among the top four teams that will battle it out in the playoffs on their own steam, although they will have an outside chance if results in other games go their way. 
Although Shakib and Kolkata will be desperate to win their last league match, there may be a silver lining if Shakib ends up on the losing side, especially if you are a fan of Abahani who are currently languishing in ninth position of the Dhaka Premier League (DPL). If an early return from the IPL does happen for Shakib, he is expected to join his Bangladesh teammate and friend Tamim Iqbal in Abahani colours for the remainder of the DPL. 
The two Bangladeshis in the IPL have had contrasting tournaments so far, mainly because one of them has taken it by storm in a manner few have before. Mustafizur has been a revelation so far, even with his two-match dip that saw him concede more runs than expected. He is currently the joint third-highest wicket-taker with 15 at an average of 21.6 while boasting the best economy rate (6.61) of bowlers who have bowled more than 10 overs. 
On the other hand Shakib, who has long been the sole Bangladeshi ambassador in cricket's most lucrative franchise league, has had a middling tournament so far, taking only four wickets in nine matches with an economy rate of 7.74 and not doing anything of note with the bat. Nonetheless, he remains a crucial cog in the Knight Riders' machine and is expected to play today as the Eden Gardens is suited to his left-arm spin. 
In the first match between the two teams, at Hyderabad on 16 April, both players performed well as Kolkata won the match through a fine innings from captain Gautam Gambhir. Shakib bowled well to concede just 18 runs from three overs, and was not needed with the bat as Kolkata cantered home, having dealt well with the threat of Mustafizur, who took one wicket for 29 from his four overs. 
Today, while Shakib will be hoping to delay his season debut for Abahani by a few more days by putting in an overdue all-round display worthy of one of the best of the kind in the world, the Fizz will be looking to continue his resurgence from a minor blip by ensuring that he keeps Hyderabad on top of the table.