Revitalised Nasir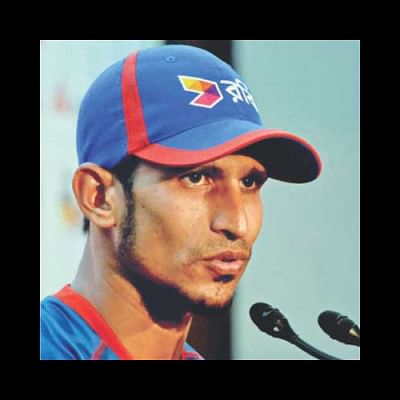 He may not be getting many chances to wield his bat lately, but Nasir Hossain, courtesy of his bowling improvement and his athleticism on the field, has become a vital cog in this Bangladesh's line-up.
During the post-match press conference of the second ODI, skipper Mashrafe Bin Mortaza had described Nasir as the best off-spinner on the country's ODI circuit.
Nasir initially saw the funny side of that comment.
"If there's no tiger in the team then the cat is considered as the tiger. There's no other off-spinner in the side except for me, which is probably why Mashrafe bhai said that," a smiling Nasir said.
"But to be honest, I bowl a lot more than before. I am working a lot more with Ruwan [Kalpage] and I have always enjoyed it," added Nasir.
Prior to 2015, Nasir averaged over 100 with the ball. Since the beginning of this year though, Nasir has averaged a brilliant 29.92 and has bowled almost as many overs as he did in the first three years of his career.
With the bat too, the 23-year-old has been amongst the runs in domestic cricket. However, things weren't as great for Nasir towards the end of 2014. His bad form compelled the selectors to drop him ahead of the Zimbabwe series last year. That was a move, which according to Nasir, helped his career.
"That break did make me feel a little bad. But from one aspect it was good for my career because I became more serious. There are many positive things that come from negative actions," Nasir admitted.
With Bangladesh one win away from completing a 3-0 whitewash of India, the customary 'Banglawash' questions were posed and Nasir didn't dare to step out of tradition. "We are not thinking about that. We just want to go match by match," he quickly blurted.
However, the one aspect that the player shed some light on was the way they were going to approach the game.
"In our meeting in the dressing room we were told to play the way we would have played had we lost the first two matches. We have been asked not to show an ounce of complacency," said Nasir, adding that he expected the visitors to give it their all in the third and final ODI.
Mustafizur Rahman has been a major factor in the last two matches and Nasir believes the left-arm pacer can continue his good run.
"I think Mustafizur deserves 80 per cent of the credit for the wins. I don't think he has realised what he has done. He will bowl the same way in the third ODI," said Nasir.
While speaking about his shy colleague's lethal off-cutters, Nasir said, "We face him in the nets sometimes. Even we have trouble facing his slower deliveries and cutters.
"There have been times when I asked him not to bowl those cutters to me in the nets," quipped the 23-year-old.
Towards the end of the press conference Nasir was asked if he thought Bangladesh had become a 'big' force to be reckoned with after this series victory. Nasir provided a level-headed reply. "We have played two consistent series. To be a big team we need to play consistently for at least two years," he said.
That last reply depicted the aggressive mentality that this current unit has been feeding its success off. There's an immense hunger amongst these players to win matches and at the moment it seems as though nothing less than a clean sheet can satisfy them.