Pakistan's Hafeez reported for suspect bowling action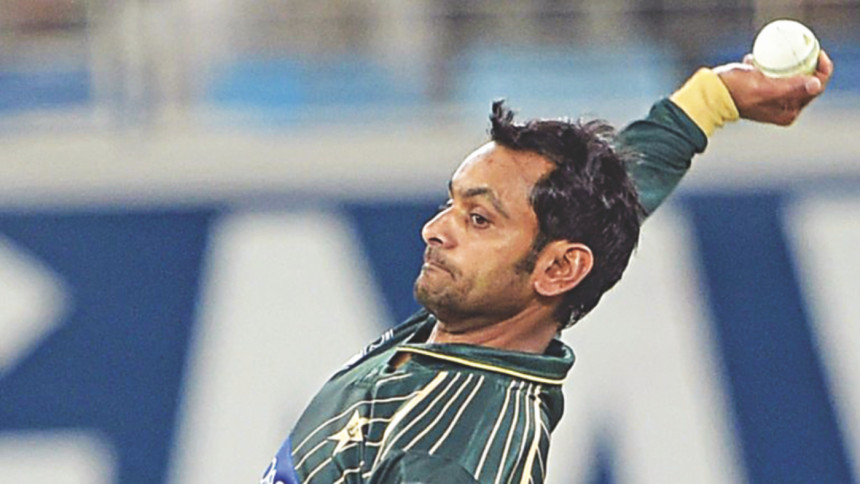 Pakistan's off-spinner Mohammad Hafeez has been reported for a suspect bowling action during the third one-day international against Sri Lanka in Abu Dhabi, the International Cricket Council said Thursday.
The ICC said the match officials' report, which was handed over to the Pakistan team management, cited concerns about the legality of the 37-year-old's bowling action during the match on Wednesday.
"Hafeez's bowling action will now be scrutinised further under the ICC illegal bowling action regulations. He is required to undergo testing within 14 days, and, during this period, Hafeez is permitted to continue bowling in international cricket until the results of the assessments are known," said an ICC release.
This is the third time that his action has been reported as suspect. He was first suspended from bowling in December 2014 before he was cleared the following April.
His action was reported for a second time in June 2015 and as this was his second suspension within 24 months of the initial suspension, he was suspended from bowling in international cricket for 12 months from July 2015.
On 17 November 2016 Hafeez underwent reassessment of his bowling action at the National Cricket Centre in Brisbane and was allowed to resume bowling after his action was found to be legal.
Hafeez bowled eight overs for 39 taking one wicket in the match which Pakistan won by seven wickets to take an unbeatable 3-0 lead in the five-match series.