An ordinary extraordinaire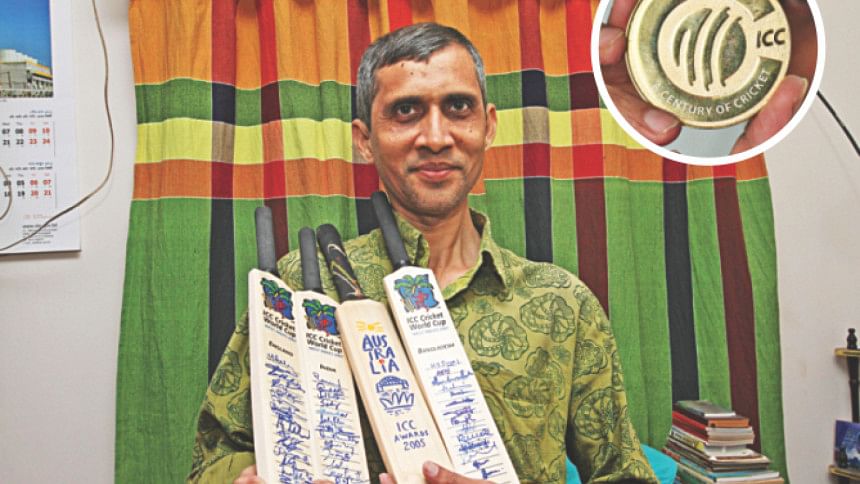 It looked like an ordinary room -- 14 ft by 11 ft -- for an ordinary man. You won't find any modern furniture there. An old fashioned bed, a dressing table and some other unremarkable furniture would make you perceive that the man living in this room has no affection for modern luxuries. He has a 21-inch colour television which, to him, is vital to fulfilling his passion rather than a luxury good. Even in this digital era, he is not ready to sacrifice his ambience by using a mobile phone.
If you enter this house and visit his room, you would still not get any inkling of anything extraordinary. But once the 'ordinary' man opens his small cabinet, you are bound to raise your eyebrows. The memorabilia he collected from FIFA, ICC and International Olympic Committee, as well as the bits and pieces of paper stuffed into his small cabinet can mesmerise anyone.
By the looks of it seemed as though Mahfuzul Haque's collection was the only aspect in his life that he has been living for. The 44-year-old man feels his heart beats only in sports. The slender man shows you each piece of his collection, which include four original autographed bats from the 2007 World Cup, ICC's centenary celebrations coin and an Olympic coin, a football signed by FIFA president Sepp Blatter, with untiring zest and unfaltering love, akin to the way a father shows you his baby. "This is a memorable one," was a statement that accompanied almost every trinket of his.
Observing all his collections, including the latest ones from International Cricket Council (ICC), which sent some memorabilia of the upcoming World Cup, one can easily understand how consumed Mahfuzul is by sports.
And the story could end here, but more surprises await you when you learn how he communicates with the game's governing bodies to collect these 'artefacts'. You may think that it's just a matter of a single click to send a message. But to Mahfuzul, the internet is like the eighth wonder of the world. "I love to write letters, especially wishing someone or some organisation on their special day. Fortunately, many respond and post to my address. And I frequently visit the cultural centres of the foreign embassies in Dhaka. From there I collect the addresses," Mahfuzul explains the story behind his collection.
The eldest son of retired government official, his excitement, love and passion revolves around watching football, cricket and tennis and collecting such memorabilia.
"One day I suddenly got a call on my land phone from the postman who said 'I have a parcel from Switzerland with a ball' and he asked me when he should deliver it. I told him to stay in his office and that I would go and pick it up personally. I didn't want to take any risk. It was a right decision as the ball was signed by FIFA president Sepp Blatter," an emphatic Mahfuzul recalled.
"I fell in love with sports when I was in school. From my youth, I leaned towards spending my time watching sports rather than playing. I don't know what actually encouraged me to love sports," said Mahfuzul.
His parents were initially worried about his future due to his all-out passion towards sports but his 70-year-old father Mahmudul Haque now takes it sportingly. "We now enjoy his madness and in our family circle he is called the'living dictionary' for his knowledge," said a smiling Mahmudul.
As for his life's philosophy Mahmudul believes that "everyone is not capable of everything". And it is with this thought that he hopes to stick to his dream, of building a small museum one day, where he can proudly showcase his treasures for people to witness and marvel.