O'Keefe like a Hyundai i30: Panesar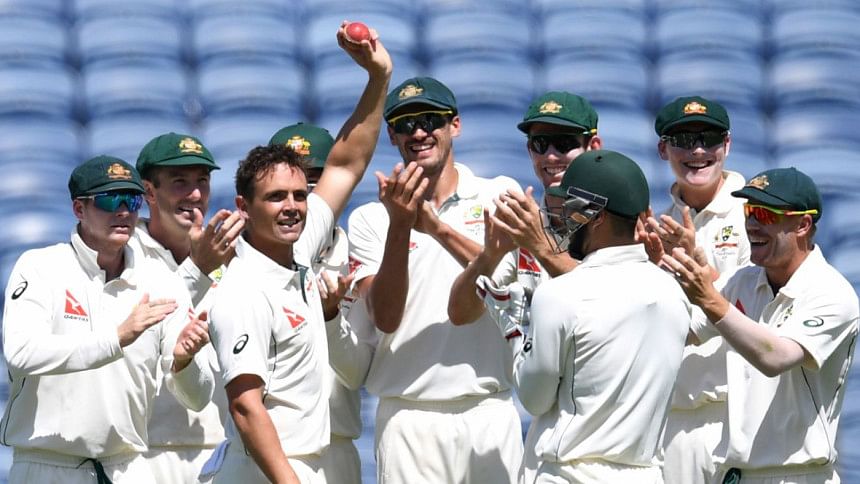 In motoring parlance, Australia spinner Steve O'Keefe is more reliable Korean car than prestige vehicle but his "happy" mental state makes him a great addition to the team garage, according to former England bowler Monty Panesar.
Recalled for just his fifth test since his 2014 debut against Pakistan, O'Keefe took 12 wickets in the series-opening defeat of India, the biggest haul ever by a visiting spinner.
Fellow left-arm spinner Panesar, who hopes to restore his own stalled international career, was hired by Cricket Australia to work with the team's spinners before the tour and he saw enough in 32-year-old O'Keefe to feel he could play a big role.
"When I first saw him, he asked me: 'what do you think of my spin bowling?' I said to him, 'you're like a Hyundai i30", Luton-born Panesar told Reuters in an interview on Monday.
"'You're very much unassuming. You're reliable. You get from A to B and you get the job done'.
"I remember telling (the team management) before they left for India, I said 'I feel like O'Keefe will have the most impact'.
"That was my judgement and sometimes these things happen in cricket."
Panesar played the last of his 50 tests at the Melbourne Cricket Ground during England's 5-0 humiliation in the 2013/14 series but he returned Down Under last year to play grade cricket for Sydney club Campbelltown-Camden Ghosts.
He faced O'Keefe in a match against Manly-Warringah last month and lasted only three balls before becoming one of the Australian's nine victims in the first innings.
O'Keefe had pulled out of the domestic 'Big Bash' Twenty20 competition to play more red-ball cricket in the leadup to the India tour and Panesar was impressed with his application.
"We had a chat at the game and I had an opportunity to look at his bowling," the 34-year-old said.
OFF-FIELD ISSUES
"He very much sets up batsmen and looks to get them out. He's an intelligent cricketer. He knows his limitations but he's happy.
"That's what I was surprised by. He's just happy with what he's got and he just tries to make the best of that. He doesn't try to be anyone else. He tries to be the best O'Keefe he can be."
Forty-five tests separate the left-armers, but O'Keefe and Panesar have shared a similar battle to overcome sceptics about their abilities and also survived brushes with indiscipline off-field.
When playing for county side Sussex in 2013, Panesar infamously urinated on a nightclub's doormen and was fined by police for being drunk and disorderly.
O'Keefe was fined by his cricket board last August for a drunken incident involving security staff at a Sydney hotel soon after returning home injured from Australia's tour of Sri Lanka.
The incident was a wake-up call for O'Keefe, who has steered clear of alcohol since and ploughed back into domestic cricket with renewed purpose.
"Sometimes there are people out there who criticise you and that's a test of how much you want to make a comeback," said Panesar, who has battled to get back to his best since shoulder surgery in late-2015.
"And also it's a test of your self-belief and confidence.
"O'Keefe was brilliant, he mentioned something happened in Manly and then he said to me it had been over 150 days that he hadn't drunk."
Panesar's cricketing future remains up in the air but he is in a peaceful state of mind since opening up last year about his struggles with mental health issues.
O'Keefe's effort in Pune had also added fuel to the fire for Panesar's own hopes of reviving his England career.
"Very much so. It's a great story and it inspires people like us in our thirties to make that comeback," he said.