North Zone win maiden title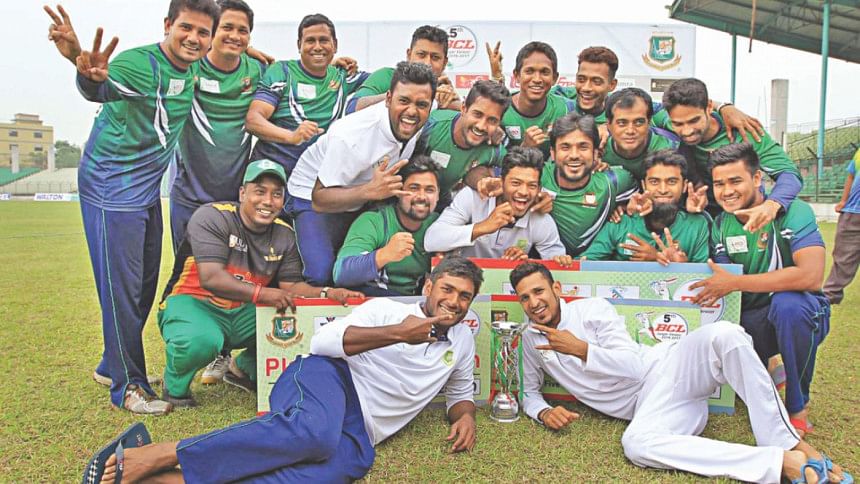 BCB North Zone became the new Bangladesh Cricket League (BCL) champions after earning three points from their drawn game against Islami Bank East Zome at Fatullah yesterday.
In addition to that, the four-day competition ended with yet another achievement from veteran Tushar Iman. Although he got the opportunity to bat just two overs in Prime Bank South Zone's second innings at the BKSP, he became the highest run-getter in a single season by eclipsing Liton Das's 1232 runs.
As expected, both games ended in draws with a hundred from Nazmul Hossain at Fatullah and a 113-run effort from Shadman Islam at BKSP being the highlights of the day apart from Tushar's unbeaten 12-ball 28 -- featuring five fours and one six -- which saw him finish the season with record a 1249 runs.
Tushar, who scored 731 runs in the six matches at an average of 91.37 and also hit two double hundreds, was quite conscious that he was chasing another record. That is why he decided to open the innings and went for the kill, ultimately finishing the job in style.
However, Jahurul Islam was still the happiest man in the end as North Zone secured a maiden title.
"It was all about the team effort and that helped clinch the title. We were consistent in our performances," said Jahurul.
Jahurul said that it was not easy to secure results this season as the wickets were mostly flat, especially at the BKSP.
"I am not a hundred per cent sure but maybe the omission of bonus points encouraged teams to draw out the first innings as long as possible for a lead, which ultimately made it difficult to get a result. Overall the standard of the tournament was good but in my opinion it could have been much better had there been sporting wickets," Jahurul added.
At Fatullah, Nasir Hossain assisted Nazmul Hossain with 63, steering North Zone to 295 for 8, at which point they declared. Chasing an improbable 454, East Zone ended at 128 for 3 in 36 overs. Shafiul finished with a match haul of eight wickets.
SCORES IN BRIEF 
NORTH ZONE: 374 and 295-8dec (Junaed 40, Nazmul 122 not out, Nasir 63; Saifuddin 3-66, Jayed 2-45)

EAST ZONE: 216 and 128-3 in 36 overs (Tasamul 44 not out; Shafiul 2-37)

Result: Match drawn. 

Player-of-the-match: Farhad Hossain.

SOUTH ZONE: 749-8dec and 33-0 in 2 overs (Tushar 28 not out)

CENTRAL ZONE: 415 all out in 143.5 overs (Shadman 113, Saif 50, Taibur 90; Al-Amin Hossain 2-47, Razzak 2-139, Nazmul 4-100)

Result: Match drawn   

Player-of-the-match: Shahriar Nafees.