'World of pressure' as Tendulkar's son steps out of father's shadow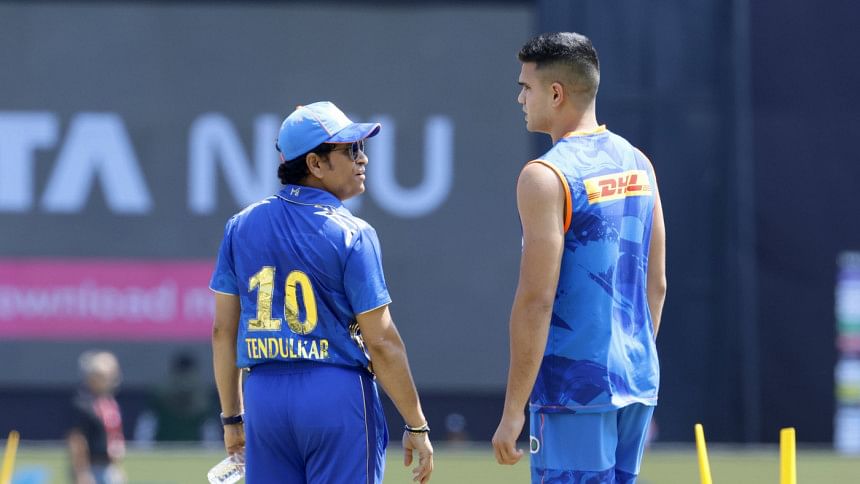 Being the offspring of a cricket legend is hard but Sachin Tendulkar's son Arjun is quietly starting to make his mark -- albeit with the ball not the bat.
Last month the 23-year-old left-arm fast bowler played for the first time in an IPL match -- for his dad's old outfit Mumbai Indians -- and returned solid if not spectacular figures of 0-17.
For context, by the time his dad was the same age he was captain of India, had 10 Test centuries -- his first aged only 17 -- and was on his way to achieving god-like status at home.
Sachin went on to become the top-scoring Test batsman of all time and when he retired in 2013 it was a national tragedy.
Indian media and fans are salivating at the idea of another Tendulkar wearing the Indian colours.
However, Arjun still has a long way to go to prove that he has the ability to play regularly in the IPL, never mind for his country.
And with a father like his, the weight of expectation is huge.
"Just being a Tendulkar will turn the spotlight on you," veteran cricket journalist Ayaz Memon told AFP.
"Along with that comes a whole world of pressure, you can't escape.
"So that's what young Arjun has lived through all his life. The expectations multiply and the scrutiny will get harsher and harsher."
Arjun was signed by Mumbai Indians in 2021 but the recent home match against Kolkata in front of a packed, ecstatic crowd was the first time he had played.
When captain Rohit Sharma told him to bowl it was such a big moment that Sachin was in tears, according to former West Indies cricketer and commentator Ian Bishop.
It was in the next game that Arjun made his mark.
He took his debut wicket -- a feat even his father couldn't achieve during his IPL career -- and defended 20 runs in the final over. That spoke of his nerve as much as his ability.
A nervous Sachin watched his son's last-over heroics and later tweeted: "And finally a Tendulkar has an IPL wicket!"
WORKING ON PACE 
The euphoria was soon forgotten, however, when in Mumbai's next match he was smashed for 31 runs in an over, with social media full of accusations of nepotism.
Arjun played one more match and took one more wicket before being benched.
Rohit admitted the decision was tough but said it was more about selecting a side to suit the conditions, rather than Arjun's performance.
So how good is he?
Standing at over six feet (1.83 metres) tall, the youngster made his T20 debut for a domestic team in Mumbai in 2021, but failed to do enough to nail down a place in the team.
He shifted to Goa in the search for regular action and played seven first-class matches for them.
Arjun can swing the ball off the pitch but lacks speed, with his fastest deliveries coming at just about 130 kph (80 mph). The quickest bowlers are in the 145-160 kph range.
Mumbai bowling coach Shane Bond said that "we will work on increasing his pace".
Arjun spoke recently about his relationship with his famous father, saying that they "talk a lot about cricket".
"We talk tactics and plans," he said.
"I just focused on my release and the lengths I want to bowl. If it swings, it is a bonus. If it doesn't, so be it."