'Without courage, you can't do it at this level'
Towhid Hridoy's performances have often gone under the radar, but having attained the highest score by a Bangladeshi batter on ODI debut yesterday against Ireland, they can be ignored no longer. The fluency and touch he displayed in BPL 2023 saw him get a national team call-up and brought his clean-hitting transformation to the limelight. In an interview, Hridoy talked about what helped turn disappointments into strengths with The Daily Star's Abdullah Al Mehdi.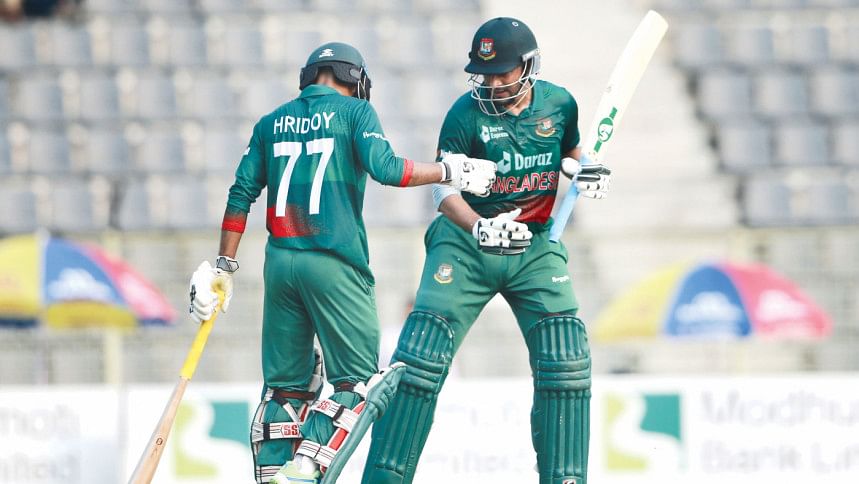 The Daily Star (DS): Was it a struggle to play the Under-19 World Cup twice?
Towhid Hridoy (TH): Of course it was tough, but I understood that the more time I gave myself, the better I would be able to prepare for the national team. People used to ask me why I wasn't playing, but because of where I bat, there were a lot of variables. Even I couldn't explain it to people. But I knew the process and particular areas that needed improvement.
DS: What did you work on?
TH: Of course, there were technical changes to my batting, but the biggest thing was a change in my mental set-up. I used to think of many things before, but now I don't do that. The change came in terms of courage. Without courage, you won't be able to do it at this level. It's a game of courage. If someone has that and can execute, success will come.
DS: But that change doesn't come to everyone so how was that possible?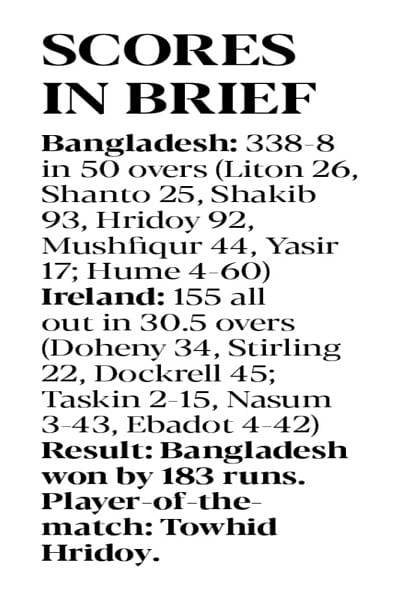 TH: I used to think of getting out a lot before, but getting out is part of the game. The mindset change was wanting to dominate till I got out.
DS: Players lose confidence during bad patches. So how did you raise your confidence levels?
TH: As a batter, you need runs to get confidence in your game. After the U-19 World Cup, I scored everywhere but that went under the radar. My runs are being noticed now. In the BPL before the last one and also the DPL, I didn't get runs. That season went badly, but after that I tried to do something different. The question was what was that something different which I could do. I felt that I had to score aggressively and show good hitting ability.
DS: Was there disappointment in that BPL? Khaled Mahmud Sujon seemed disappointed at a nets session during the 2022 edition of the tournament.
TH: If he didn't back me, I wouldn't have come to cricket. I lost my interest in cricket after being defrauded in Banasree. He backed me when I was at the U-16 level. He noticed me and the backing was rare. He gave me opportunities and batted me in a good position in the Dhaka League, which helped me progress. That BPL, I told him not to play me but to instead play others in my position. Sir scolded me and said I didn't need to think of so many things. He said that my job was to play. Knowing that had seen me from my childhood, I wanted a second opinion. Thus, I asked Shakib [Al Hasan] bhai [Barishal skipper] and he told me the same thing. When you get that backing from coach and captain, that's a big thing for a young player. At this level, when you do badly, you have to make way. I was poor across 10 to 11 matches straight and those opportunities were a big gain.
DS: Do you remember that BPL final with Fortune Barishal? Do you still have regrets?
TH: I was sick and, before the semifinal, I asked sir to drop me. I haven't forgotten that pain. At one time, it was what ignited my fire because I wasn't able to score a boundary in that vital over. I was upset for a long time and often couldn't sleep. Shujon sir just told me one thing: 'you couldn't hit one boundary'. Those words still hit me. In that one over, there were deliveries which could be hit. In the national-team camp, Shakib bhai told me: "it doesn't matter, you were young then. Because you did badly in that BPL, you did well in this BPL [2023]".