'We have learned to understand the process'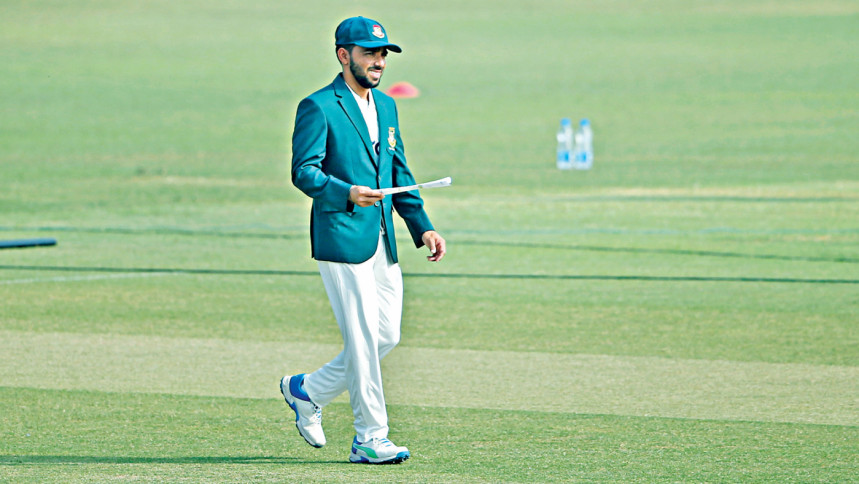 Test cricket is a game of aggression, a game where mindset, technique and mental strength become equally important over five days. Although Test skipper Mominul Haque was still reeling from jet lag a day after return from South Africa, he fielded questions on where Bangladesh went wrong in the South Africa Tests, especially approach-wise, during an interview with The Daily Star's Abdullah Al Mehdi following his side Prime Bank's Dhaka Premier League match on Thursday. The excerpts of the interview are below:
The Daily Star (DS): How do you explain the batting debacle and, in particular, the problems facing spin?
Mominul Haque (MH): What I feel is that we panic a lot. It's not that we can't play spin but in domestic cricket we don't have quality spinners. I said it and Tamim [Iqbal] bhai had said it before as well that when we face quality spin, we mess things up and the pressure gets to us.
We don't understand in what way we have to play spin. When it turns, we start hitting but the options, of how to play those shots and what areas to pick, aren't clear. When facing someone like Taijul [Islam] or [Rangana] Herath, I can't just defend all day, rather I have to shake their line and length. How long can you defend? It's a valid point since you are not scoring runs too and you get dismissed. When it's turning, it's difficult to take singles.
DS: Were you able to show authority and composure with your approach?
MH: You have to be comfortable, you just can't hit out. You have to understand the technical aspect, aggression and attitude. We weren't able to execute properly.
DS: When did you or the management realise SA went with a different plan this series?
MH: You are thinking something [pace strength] about your opponent but your opponent goes with a different strategy [spin option]. It can happen in international cricket. I wasn't surprised since you face different challenges overseas but we might have realised their plan at the very end.
DS: Tough time for you as a captain and batter?
MH: If I start thinking it's a big pressure since I'm not scoring runs and the team aren't getting results, I won't go far. I've learned to absorb these things. If I can work on my game, I'll be able to make a comeback. The important thing about captaincy is that it opens up your thinking brain and your game opens up too. In Test cricket, you are saying that we are learning after 20 years but I think that back then we used to learn but now we have learned to understand the process. It will take time.
DS: How much are you enjoying your captaincy?
MH: I enjoy it a lot. I enjoy what goes on in the field and it doesn't affect my batting. In fact, it helps me understand the game.
DS: The difference in team's approach compared to Mount Maunganui?
MH: It wasn't different. Not even the second Test.
DS: How do you view Tamim's aggression at the top? Was the team's approach feasible over five days?
MH: He [Tamim] has gotten his success in one way and just because I am captain, I can't change his game. When an opener can take on bowlers the way he did, it's good. Tamim bhai's approach is different to say that of [Mahmudul Hasan] Joy or Liton [Das]. We adopted a strategy in Mount Maunganui because we lacked experienced batters bar me and Mushfiqur [Rahim] bhai. Everyone has a different role. When you have a young team, you have to change strategies.
DS: What is aggression in Test cricket in terms of batting?
MH: For me, it means you get your feet in position before leaving the delivery or you go back before leaving well. If it is a half volley, you play your shot. If it's an in-swinger, you use your feet to play off your legs. If there are bouncers, you take your time. Everyone's game plan varies. Mindset is very important.