A test of patience for Test cricketers
Following the recent historic T20I series win over Australia, Bangladesh cricket team are gearing up for the upcoming five-match T20I series against New Zealand and with the ICC T20 World Cup in sight, members of the Test team are currently passing an idle period.
The last time the Tigers played a Test match was against Zimbabwe in July this year, where the visitors went on to register a comprehensive 220-run win. Since then, the players who only play the Test format -- the likes of skipper Mominul Haque, Shadman Islam, Abu Jayed, and Taijul Islam -- are waiting for their opportunity to perform.
Later this year, Bangladesh will take on Pakistan to begin the new cycle of the World Test Championship, and venture into their busy schedule in the longest format. The Tigers will then host Sri Lanka for a two-match Test series which makes it important for the cricketers who are only considered in the longest format to remain in touch and prepare themselves.
However, it is not easy to keep the focus intact especially with no domestic league schedule in the coming days, however the Bangladesh Cricket Board (BCB) has planned to keep these cricketers busy during this period.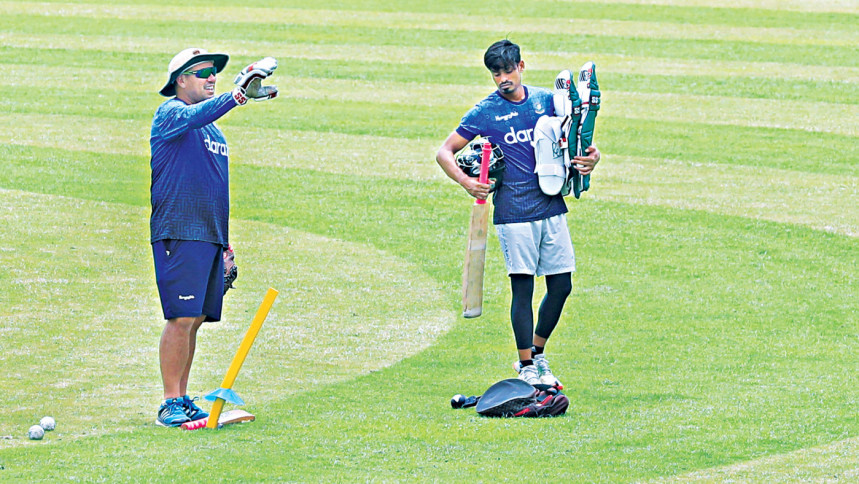 The BCB has already announced the High-Performance (HP) squad to begin a training camp while the likes of Mominul, Shadman, and the players who will not feature in the T20I series against New Zealand, will play for Bangladesh A team.
The HP side, following a 15-day training camp, will play three one-day and two four-day games against the Bangladesh A team in Chattogram next month.
Left-handed opener Shadman Islam, who struck his maiden hundred in the lone Test in Zimbabwe, was seen training at the Sher-e-Bangla National Stadium.
"I heard there'll be few matches against the High-Performance side and I hope those games will help us prepare. Also, the National Cricket League and the international series are lined up, so it is important for me to prepare for those challenges.
"Previously we didn't get enough Test matches but recently we played a few. And we also have the World Test Championship. I don't think the numbers are less but yes, if we can perform well we might get more test matches in future," Shadman told the media yesterday.
For someone like Shadman, exclusively a Test player for the Tigers so far, it is difficult to preserve the focus in a time when everyone is buzzing about the glamour of the T20 format.
"Obviously I also want to play in all the formats. During this off-season I am trying to work on my areas of weakness. Hopefully I can perform well and achieve my goal," he added.