Taskin preaches game of patience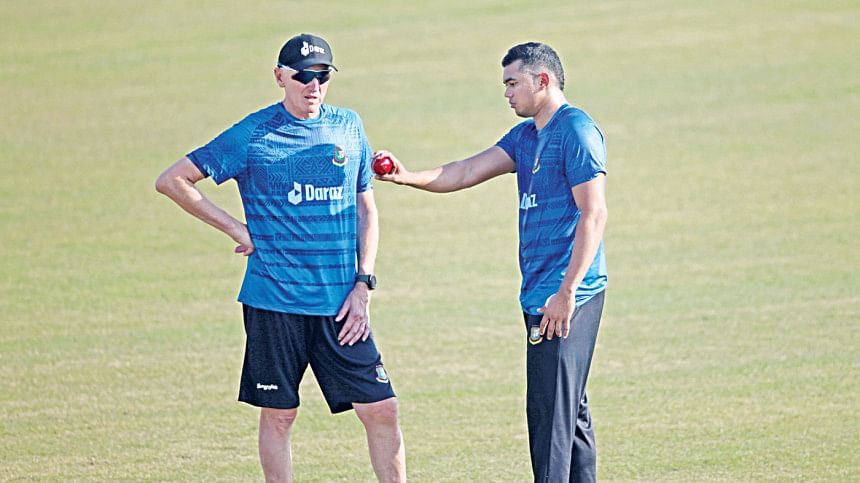 The Zahur Ahmed Chowdhury Stadium at Chattogram has produced flat batting wickets over recent years and while there is some help for the spinners, pacers usually find it hard to bowl at.
Despite that, Pakistan pace attack had managed to get something from the wicket during an eight-wicket win in November last year while Sri Lanka's Kasun Rajitha showed during the last Test played here that sticking to a plan can work in pacers' favour.
Thus, when Taskin Ahmed was asked whether more pace-friendly wicket can be provided given Bangladesh's pace attack, he talked about improving on skills for all surfaces and playing the patient game.
"Every pacer wishes to bowl on green wickets. But the condition is not in our hands. Many times we go to South Africa or New Zealand and get slow or flat tracks. The task is to adapt and to grow skills so that you can do well in all kinds of surfaces. We need to improve more so that the opponent thinks twice before providing either green or flat tracks. The good bowlers get five wickets even on flat tracks in Tests. So without thinking of those things, it will be better to work on our self-improvement," Taskin, the spearhead of Tigers' pace attack said ahead of the first Test on Wednesday against India.
The pacer has come a long way following setbacks and admitted that conditions have not been easy for the pace unit at Chattogram. "In Bangladesh, Chattogram's venue is the only one which could be called a batting paradise. The pace bowlers haven't found it easy here," he remarked.
With very little movement on offer at Chattogram, a lot will depend on discipline and skills with the old ball, according to the pacer. India have some of the biggest names in their batting lineup while a few of the batters in the Bangladesh lineup have struggled in the longest format recently.
Asked regarding a ploy in these wickets for the pacers, he said: "Top of off-stump line and if we can do that with patience. In good wickets, if we try too hard for wickets, we can go for runs. They [India batters] are great players. Some early swing and reverse-swing with the old ball can be tried. The plan would be to make them impatient. We have to be patient," he said.
Taskin had his own bouts with back injuries recently and still looking to get back into his rhythm, having sat out the first two ODIs against India before playing the third ODI. There are concerns over Taskin's workload management as well. "If I can't fulfill my workload then maybe the management may not play me in this Test," he said and patience will be an important facet for Taskin's injury management just as for the team in the first Test.