Rangpur find 'new way' to clinch NCL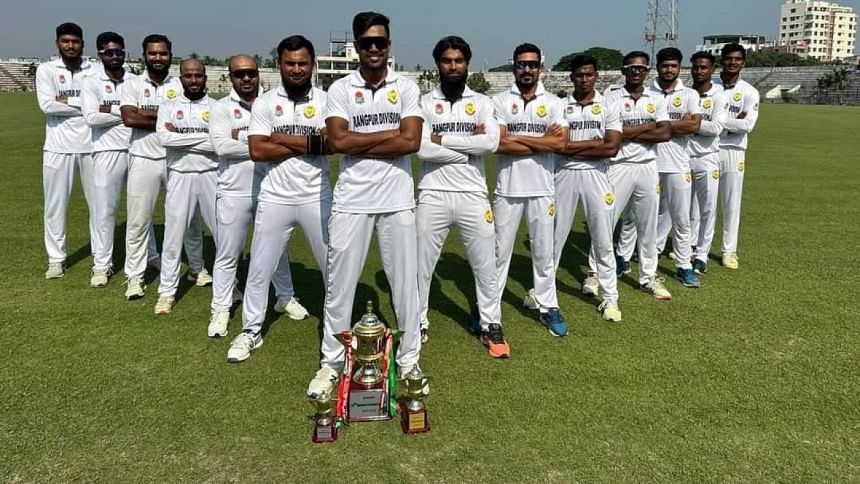 Rangpur overcame the Sylhet pacers' fiery spells and exerted their will in what was a virtual final to pick up a five-wicket win at the Shaheed Chandu Stadium in Bogura yesterday, clinching their second National Cricket League (NCL) trophy.
The Akbar Ali-led side had to battle preconceptions en route as they contended with both specific and varying challenges in the newly revamped.
The Rangpur skipper said they applied themselves in a new way to best tackle the challenges, which came in the form of both the conditions and the Duke ball being used in Bangladesh's domestic cricket for the very first time. Increased match fees meant more competitiveness and eagerness to do well.
The tables turned from bat being the aggressor to the ball holding sway. Three at slip cordon for an entire day's play or even an entire session was unheard of in Bangladesh's domestic circuit, but that became the norm this NCL. Runs dried up as bowlers dominated extensively but while spinners had been the major wicket-takers in previous editions, pace finally came to the fore.
To meet the challenges, Akbar's side found new ways. In their first game, they were bowled out for 56 by Dhaka in a thumping innings-and-62-run defeat. They took lessons from that defeat. "We have never faced something like this," Rangpur captain Akbar, who led Bangladesh to the U-19 World Cup trophy in 2020, said of the conditions while talking to The Daily Star.
"We won the championship but our spinners took just five or six wickets, so one can understand the circumstances were totally different. We won the championship by applying ourselves in a new way. We played four matches on grassy tracks, two in Mirpur and two in Bogura. The grassy wickets were a great move from organisers," he opined.
Thus, at Mirpur against a strong Chattogram outfit, Rangpur came back with a vengeance and their pacers reigned over a batting line-up consisting of the likes of Tamim Iqbal, Mahmudul Hasan and Mominul Haque. At Bogura against Dhaka, they were skittled out for 73 in the first innings but Musfik bagged eight wickets in the second innings to get his side a win. When talking about a new way, it was about adapting positively.
"We didn't lose hope, we knew it would be about scoring runs in the end and we tried to go into a one-day mode and remain positive," Akbar said.
When the chance arrived to score runs, youngster Abdullah Al Mamun hit an unbeaten 210 at Sylhet in a drawn game and contributions from youngsters like him and Musfik egged the team on. Mamun scored 326 runs in five matches while Musfik was amongst the top five wicket-takers with 25 scalps to his name.
"He [Musfik] was our main bowler and the way he bowled, playing all six matches, proved how fit he is. Mamun and Mushfiq both came after playing the 2022 U-19 World Cup. But how they integrated with the team and the way they became the main players was an incredible boost for us. They brought new energy into the team," their skipper said.
Akbar praised his side for playing like it was a 'family' and sticking together but more importantly his side enjoyed the challenges.
At the conclusion of the NCL, Chattogram Division will be relegated from Tier-1 to Tier-2 while Dhaka Metropolis will be promoted to the top tier.