Papon visits team hotel at Shakib's request but Shakib busy elsewhere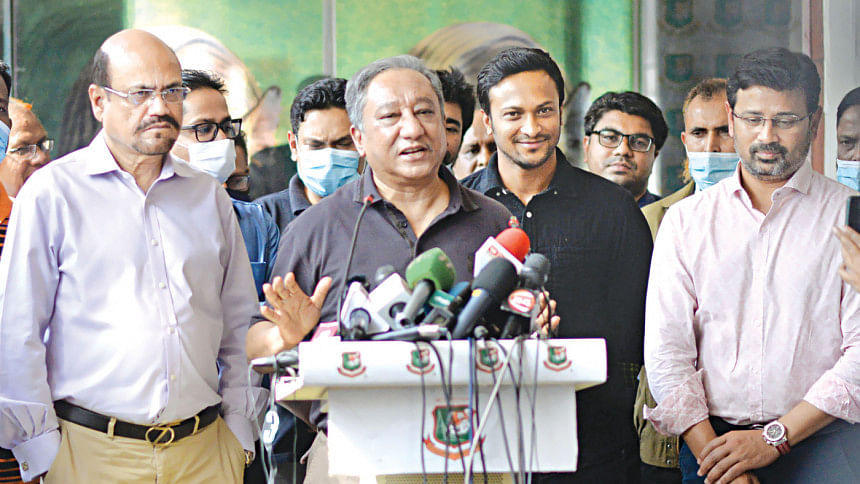 The Bangladesh Cricket Board (BCB) president Nazmul Hassan Papon visited the Tigers' team hotel in the capital on Thursday at Shakib Al Hasan's request but could not meet the star all-rounder, who was reportedly busy fulfilling a commercial commitment elsewhere. 
According to the BCB president, the purpose of his visit to the team hotel was to 'meet Shakib' and also to 'lend courage' to the players after their three-wicket defeat in the first ODI against England on Wednesday. 
"There is a singular reason why I came here [to the team hotel]. I could not meet Shakib during my first visit to the team hotel before the first ODI. That's why I came today at Shakib's request. Actually, I came here to see everyone and give them courage," Hassan told the media after meeting the players on Thursday, a day before the Tigers are set to play the series decider against England.
However, as Shakib was unavailable, Hassan said he had spoken with the all-rounder on the phone. 
"I talked with him [Shakib] on the phone. After he learned that I was about to visit [the team hotel], he called me and said that he was elsewhere. He told me, 'Come after 9:00pm.' And I replied, 'Look, it's okay as you are busy. I don't have much to say [to Shakib and others]. I just dropped by and I will just have a few words with them [other team members who were present at the team hotel]. I will talk to you over the phone later at night.' I told him that I would talk to him over the phone," Hassan explained. 
Asked how the conversation with Shakib on the phone would be like, Hassan said: "Just talk to him in general. There is nothing much to say, it's just about giving him courage."
Hassan had visited the team hotel last Monday ahead of the first ODI as well. That time also he could not meet Shakib. According to Hassan's words, Shakib asked him if 'he could meet him the day after as he was busy with some work' that day. 
Earlier, Hassan confirmed in an interview that the perceived 'rift' between stalwarts Shakib and Tamim Iqbal was in fact true only to later claim that all that he heard about the 'rift' and an 'unhealthy dressing room environment' were all from 'outside, especially the media'.