More than rest, Mominul needs a solution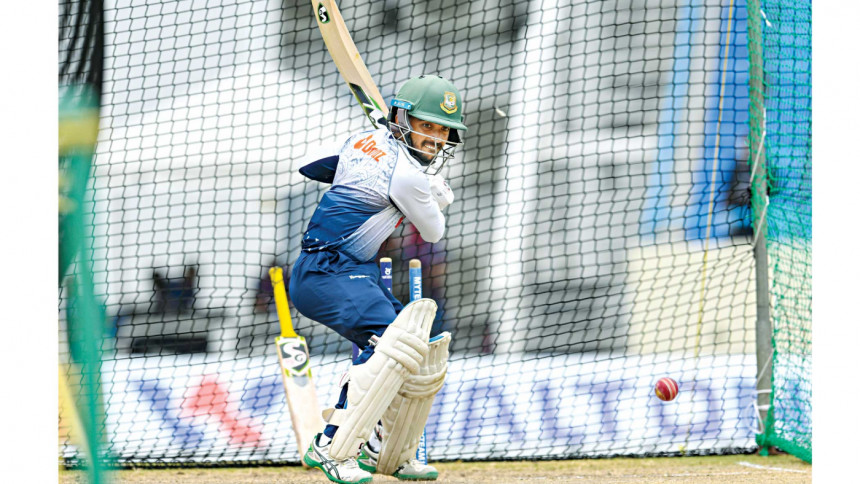 Mominul Haque not finding runs has become a major issue for Bangladesh going forward as the St. Lucia Test looms on the horizon. His current stretch encompasses the longest period that the left-hander -- hailed as arguably Bangladesh's best Test batter -- has not hit a fifty. More to the point, Mominul's confidence in his abilities appears have hit an all-time low.
Since scoring 88 and then an unbeaten 13 in the Mount Maunganui Test in New Zealand this year, Mominul's run of knocks without a fifty has stretched to 11. Before this, a period in 2018 saw him go through eight innings without a fifty. Mominul, who has 11 tons -- the most by a Bangladesh batsman in Tests -- used to have his batting average in the high 40s, but currently averages just 37.54. He has not reached double digits in his last nine innings.
That lean patch of his has seen the Bangladesh batting line-up in a spot of bother, as evidenced by the many batting debacles that the Tigers have faced during this year.
On Sunday, Test skipper Shakib Al Hasan was asked following the first Test whether a rest would help Mominul overcome his barriers.
"It's difficult for me to say. I always talk to him and will talk again. If he thinks that he needs a break, it can happen. But at this moment it's not good to take a decision or think about something right after a match," Shakib said.
"You can't guarantee that a lot of changes [to the side] will bring a lot of good."
The manner of Mominul's dismissal in his latest outing, in the second innings at Antigua, was difficult to fathom. A straightforward delivery from Kyle Mayers came in at an angle, but Mominul missed the line completely, caught in his crease in front of his stumps.
The left-hander worked with Nazmul Abedeen Fahim before departing for West Indies tour. Asked about the situation right now, Fahim replied: "Difficult. The last two failures will definitely shake him. Maybe he wasn't thinking too much before but he might be after these two innings."
Asked whether the problem was technical or mental, Fahim said: "Technical problems can stem from mental aspects. He looked good in the nets the last time I saw him. Maybe past dismissals create a disturbance during matches. He came across a lot and did not leave space to swing his bat during his last dismissal. It appeared indecisive. That delivery should not be difficult to deal with for an established batsman."
Fahim opined that rest was not the solution since batters could repeat flawed approaches even after rest.
"Rest will not do anything. He has to do the right things. He can repeat the same pattern after rest too. You have to make him do the right thing and the coaches who are watching him in a competitive environment can give Mominul proper feedback. They have to know what his mental situation is. You have to be very brave in such a situation and Mominul's advantage is that he knows his capabilities. Somehow he lost that connection. Confidence is naturally bad due to performance and since confidence is low, it can affect technique. But his return to form is very necessary for Bangladesh cricket. We will not get another batter like him out of the blue," Fahim said.