Modi will only harm Pakistan, says Afridi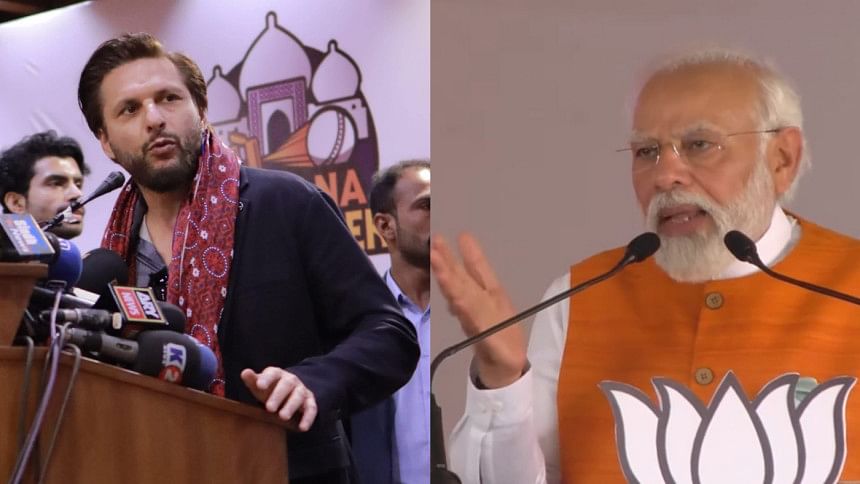 Former Pakistan captain Shahid Afridi launched a scathing attack on Indian Prime Minister Narendra Modi for his strict policies and said that ever since the Indian PM took office, nothing positive has come out for Pakistan, and neither can anything be expected in the future from the head of the Indian government.
"Ever since Modi has come to power you can't expect anything from him in Pakistan's favour. As simple as that," Afridi said on Samaa TV.
"History speaks for itself. Earlier when BJP was in power, we had pretty good relationships with the previous prime ministers," he added.
The 46-year-old also said that he has zero expectations from PM Modi and the latter will only damage Pakistan's image.
"I am only talking about Modi. I have no expectations from him whatsoever," he said.
"He will only harm us, I don't see him doing anything in our (Pakistan's) favour," he added.
Earlier, in March Afridi had requested the Indian prime minister to "let cricket happen" between the two nations.
"I will request Modi sahab to let cricket happen between both countries," Afridi said on the sidelines of the Legends League Cricket (LLC) in Doha.
The legendary big hitting allrounder said that Pakistan doesn't have any security concerns as many international teams have safely toured in recent times.
"As far as the security concern in Pakistan is concerned, we had many international teams traveling here recently. We used to face security threats from India as well, but if permission is received from the government of both the countries then the tour will happen. If the tour doesn't happen, we will give those people a chance. All they want is that there should be no cricket between them," Afridi said.
India and Pakistan have only met in a multi-nation tournament since then.
Last year, BCCI secretary Jay Shah, who is also Asian Cricket Council's chief, had made it public that the Indian team won't be traveling to Pakistan to play in the Asia Cup and that the tournament will be held at a neutral venue.
PCB objected to this stating ACC didn't even inform them about the tournament moving away from their home and decision was taken without consulting them. Since then, PCB has been threatening to pull out of the 50 overs World Cup which is scheduled to be held in India, if the Asia Cup is played in some other part of the cricketing world.