'It's not easy to fill the shoes of Mushy bhai'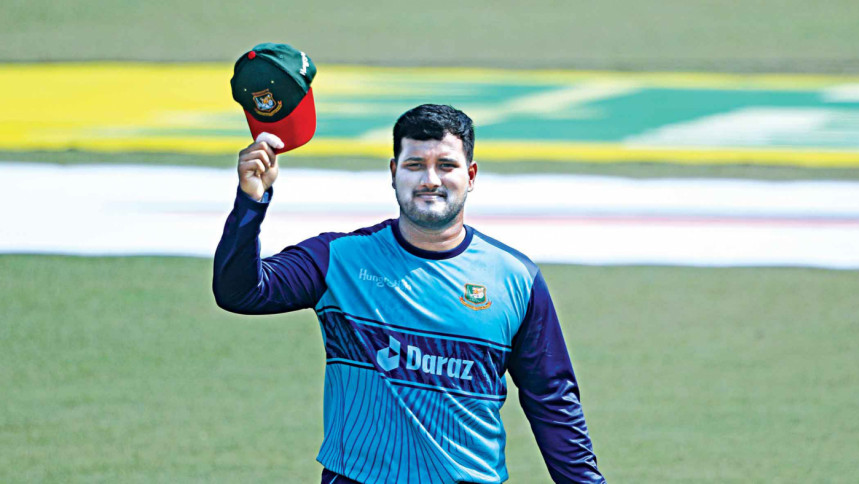 Yasir Ali Chowdhury has shown great potential in his fledgling Test career and the right-hander is expected to play a big role in Bangladesh's middle-order on the tour of the West Indies as he fills a vacancy left by the absence of the experienced Mushfiqur Rahim. The 26-year-old, who will travel to the Caribbean today, spoke to The Daily Star's Mazhar Uddin before boarding a flight, discussing his plans and some other topics during an exclusive interview. The excerpts are below:
The Daily Star (DS): The upcoming Test series in the West Indies is surely going to be a crucial tour for you.
Yasir Ali (YA): It will not only be important for me, but for the entire team. We are desperate to perform well in the longest format of the game and we know it will be challenging for us as a unit. But I am confident of giving my best and contributing to the team's success.
DS: In the absence of the experienced Mushfiqur Rahim, head coach Russell Domingo sees you as a bright prospect in the middle-order. What are your thoughts on your batting order?
YA: It is a big change in the Test side because I will be playing in place of Mushfiqur. It's not easy to fill the shoes of someone like Mushy bhai because there are high expectations from everyone. I also have my own expectations, which I want to fulfil. At the moment, I am not in a position to bat wherever I want. I have to play according to the demands of the team management. But I may get a chance to bat up the order and it would be great if I could utilise the opportunity. Coach [Russell Domingo] told me to prepare mentally.
DS: You had some good starts in your young career, showing good technique and temperament. Do you think you are one big knock away from that kick-start in international cricket?
YA: Everyone wants to kick-start their international cricket and I am looking forward to it and I will be trying to prove my worth in the tough Windies conditions. It will be a big boost for me as a batter because a big knock always gives you confidence moving forward. I just want to adapt and adjust initially and try to play according to the merits of the situation.
DS: Caribbean conditions and the seam-friendly tracks have always been challenging for Bangladesh, especially in the Test format. Are there any specific areas you are working on as a batter?
YA: I had a chat with Jamie Siddons and he gave me a brief idea about the venue for our games in Antigua. He said that it is expected to be a slow and low surface. What he said is that the old ball can prove to be tricky for us compared to the new ball. So I worked accordingly. The old ball swings a lot and normally in the West Indies they use Duke balls, not Kookaburra balls. These are small things that could prove crucial in the Caribbean.
DS: What is the first thing that comes to mind when you think about West Indies?
YA: The first thing that came to my mind is that I had to carry drinks for six games in West Indies during my Under-19 days back in 2013. The difference is that I am expected to play game this time around. I am keen to perform and give my best. I have the determination that I will try to make it count whenever I play in the West Indies. Another thing that comes to my mind when I think about West Indies is Brian Lara. I used to be a huge Lara fan since my childhood and I am excited to play a Test match in the West Indies.