He should have opted for harmony
Bangladesh's most celebrated cricketer Shakib Al Hasan has been in the news recently, and not in the sports pages.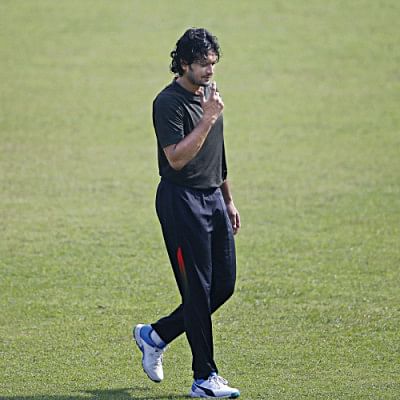 Bangladesh's most celebrated cricketer Shakib Al Hasan has been in the news recently, and not in the sports pages.
On Monday, Shakib -- a famous citizen of a secular country -- apologised for being present at a puja mandap in Kolkata and denied going to the Indian city to inaugurate Kali puja after backlash from a section of his social media followers.
That has raised questions about the responsibilities someone in his position has in the wider social context.
The world's topODI all-rounder is the most followed among Bangladeshis on social media--he has over 1.3 million followers on Facebook.
The 33-year-old has already elevated himself as one of the great all-rounders with his feisty batting and wily left-arm spin bowling.
Still, the champion cricketer is yet to become a role-model.We all expect him to be one because of his ability to influence and because he is the most decorated sporting ambassador of the country.
But as is the hallmark of all role models, does Shakib embody the ideals of the society he inhabits and encourage others to aspire to the country's wider social goals?
Shakib has so far been a cricketer whose performance on the field is admired by all and sundry. But off the field, his actions have drawn criticism and, as in the most recent case, fomented division.
He has been embroiled in controversy since his return from the United State earlier this month.
This is not unusual as if one considers Shakib'strack record, which also includes not reporting to the International Cricket Council corrupt approaches by a bookie, for which he was banned for a year by the global body -- a ban that just ended on October 29.
Within hours of returning from the US on November 6, he flouted a standard advisory Covid-19 self-isolation protocol. According to media reports, it took Shakib only 12 hoursafter his arrival to attend a commercial endorsement programme.
With Shakib attending the launching ceremony of a super shop, people understandably thronged to watch him from close quarters, forgetting all about social distancing. Many newspapers, including The Daily Star, published a picture of the event with neither Shakib nor those surrounding him wearing a mask.
A spokesperson for Directorate General of Health Services (DGHS), when asked by this newspaper,said if anyone left home during thetwo-week quarantine period, he or she would have broken quarantine rules.
But Shakib could not care less. He did not even show the minimum courtesy of publicly acknowledging that his action was ill-advised, something a role model should not have committed in the first place.
Then, as part of his slew of commercial engagements, he went to India on November 12. Bdnews24.com carried the news, saying that the star cricketer went to India to be a part of the inauguration ofa Kali Puja mandap in Kolkata's Kakurgachi area. Hindustan Times Bangla also carried the news. People closely associated with Shakib said the cricketer also met his agent in Kolkata during the short trip and discussed future endorsements.
But Shakib had little idea that his participation in the launching of a puja mandap would draw backlash from some of his followers. The most extreme reaction came from a Facebook live video on November 15 by a Sylhet user brandishing a sharp weapon and saying Shakib must be killed for "hurting Muslims' feelings".
The threat was a cause for concern not only for Shakib but for a country that preaches religious harmony.
Being a celebrity and adored by everyone, irrespective of creed and culture, Shakib has not done anything wrong by attending that function. His decision to comply with the request of taking photos with his followers belonging to a different faith in front of the mandap has nothing to do with his religious belief, or hurting it.
Shakib is an entertainer. On the field, he entertains not just Muslims, Hindus or Christians, but people belonging to all other faiths. And as a public figure, his role is no different off it.
With that in mind, Shakib's response to that threat was no less disturbing and damaging to religious harmony, especially considering that many do see him as a role model.
In a video on his YouTube channelthe day after the threat, Shakib said many things and ended that long speech with an apology.
"If you think that my going there was wrong, then I am very sad and apologetic and I hope you can forgive it and I will try not to repeat such things in the future," Shakib said in the video.
Apart from that Shakib made every effort to prove that he was attending a different programme and only lit a candle upon his hosts' request.
"The place where we had our gathering was definitely not the puja mandap, it was an adjacent stage. I was there for 30-40 minutes and we did not speak about religion at the time. When we had concluded, I had to get in the car but some of the roads were closed.
"So, I had to take the road through the mandap and I did that. Then the person who invited me made a request, so I lit a candle. Because I have played for Kolkata [Knight Riders in the IPL] for a long time, their journalists were very excited. So, because of everyone's request, I stood there and took a picture," Shakib said in the video.
He even read the part of his invitation card that mentioned the name of the man who actually inaugurated the puja.
As suggested in the two published reports mentioned above -- and it should be noted that Shakib did nothing to refute those before a crazed man in Sylhet brandished a sharp weapon in front of a camera -- the fact is that he was there to be part of the opening ceremony of a puja mandap.
But he did not have thecourage to call a spade a spade when social media reactions from a section of fans went pear-shaped. Nor did he try to use his immense platform to outline the importance of religious harmony.
Although Shakib was apologetic for attending a ceremony of a different religious belief and even went as far as to say that "as a practising Muslim I would never attend a puja", his response to another incident at the Benapole check-post was a study in stark contrast.
When leaving for his engagement in Kolkata, Shakib staved off a selfie-seeking fan at the border check-post, leading to the fan's cell phone being broken.
In his puja apology video, Shakib said it was very crowded in Benapole, many were taking photos and he was trying to maintain social distance,which is understandable when taken as an isolated incident.
"I am very sad that his phone broke but, against the backdrop of the pandemic, I think everyone should be careful," Shakib concluded.
But as far as social distancing is concerned in the ongoing pandemic, Shakib is probably not in a position to advise others to be careful considering his ownvery recent record of disregarding health guidelines.
During his long career Shakib has been involved in many off-field controversies. His mysterious absence from the official photoshoot before the 2019 World Cup, which demonstrated his disrespect to his teammates and institution, is one glaring example.
Shakib went on to score 606 runs and took 11 wickets in the 2019 World Cup, the best all-round performance so far in a single World Cup.
He will hopefully keep on scoring runs and taking wickets in the future, and we will keep on cheering him on the field.
But we can't expect Shakib to bat for a common cause or bowl against anything evil off the field. Not a role model, then, but at the least an influencer, and the latter role could be counterproductive for the country.