'Franchise-based leagues are hurting the ODI format'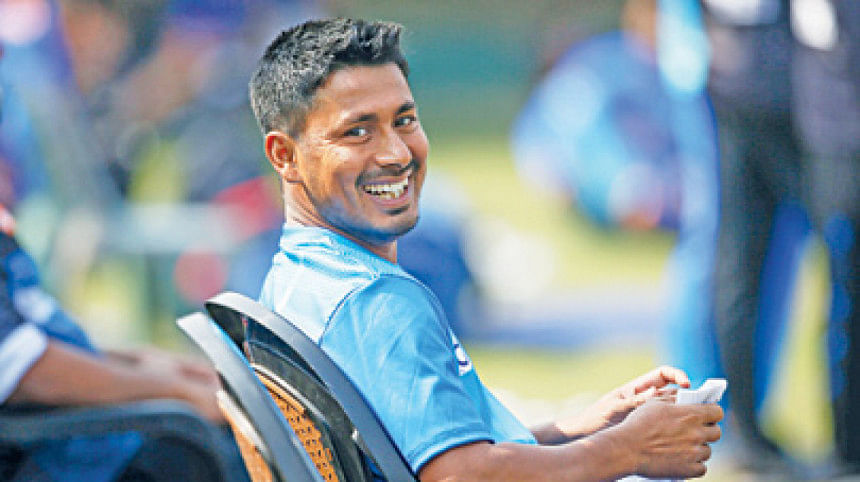 The sustainability of ODI cricket has been questioned after a number of legends of the game termed the format obsolete in the modern era. Considering the excessive workload that comes with having to play all three formats and with the growing demand for franchise T20 leagues across the world, many international stars have started to quit ODI cricket to give more emphasis on the two other formats. The Daily Star's Mazhar Uddin caught up with the Tigers' former captain Mohammad Ashraful to discuss the pros and cons of the 50-over format and how it can affect Bangladesh cricket during an exclusive interview. The excerpts of the interview are given below:
The Daily Star (DS): How important do you think ODI cricket is in modern-day cricket?
Mohammad Ashraful (MA): Nowadays, I feel that the introduction of T20 cricket has made the ODI format lose its charm. People do not enjoy it as much as they used to in the past. As there are a number of franchise-based T20 leagues, and now we have T10 leagues as well, it's becoming really difficult for the ODI format. Meanwhile, even the Test format also seems to be providing a lot of entertainment to the fans after the way Australia, England, India, New Zealand and other teams have been playing in the format lately. England and Australia have always given top priority to Test cricket. But I feel that since the introduction of T20 cricket, people have lost their patience to sit through an entire 50-over game as they get bored at one point.
DS: Do you think, in order to survive and maintain its popularity, ODI cricket needs a revamp?
MA: I think, in order to survive, it will be important to reduce the franchise-based leagues across the world. Fans' interest in international cricket has decreased mainly due to the matches in the franchise-based T20 leagues which do not take much time to finish. But I feel that the big tournaments, like the 50-over World Cup, will always be popular. But when it comes to bilateral series, things have changed. Unlike in the past, people do not wait eagerly for such series anymore as an overwhelming number of matches take place throughout the year.
DS: Pakistan's legendary pacer Wasim Akram stated that the ODI format has become a drag. England's Ben Stokes also retired from the format in order to manage the workload. What's your take on this?
MA: If we notice, recently England sent a separate ODI team to Ireland while their other team was playing a Test series against New Zealand. Yes, they can afford to have two different teams much like India or Australia. Considering the tight schedule, not every player is able to play all the formats. And I agree with what Wasim Akram said. I think nowadays, a cricketer thinks about quitting international cricket and playing franchise leagues as a player's career is short and there is a need to secure the future. Take the case of Kumar Sangakkara, who retired from international cricket in 2015 and went on to play franchise leagues for another two-three years. However, many felt that he could have easily continued international cricket for another couple of years. So, I really don't know how it can be changed but I feel that the franchise leagues are hampering international cricket.
DS: With a threat looming over ODI cricket's existence, do you think it's high time Bangladesh restructured their domestic circuit in order to have better T20I and Test outfits?
MA: We [Bangladesh] are yet to play consistent cricket in Tests, despite being handed Test status 22 years ago, and in T20Is. We play well in ODIs because we have a strong domestic Dhaka Premier League 50-over competition, which is very competitive and even foreign players find it hard to perform in this league. But we don't get to play enough T20 matches. In the Bangladesh Premier League (BPL), the domestic T20 tournament that we have, a number of local players don't even get a chance to play. Also, not many quality foreign players have come to play the BPL in the last two editions. After the first few seasons, in which a number of top-rated foreign players came to play in the BPL, we were unable to maintain the standard of the tournament.
If I talk about the longest format, I have been playing four-day cricket for the last four to five years and things started to improve. But maybe our cricket calendar still needs a revamp. If we can make a calendar with dates earmarked for different tournaments, it would help us prepare and adjust accordingly. We also tend to rely on the national players when it comes to their participation in the domestic leagues as we don't know which league is going to start when. The reason why our standard of cricket is not improving is that we tend to think only about the national team and not the clubs and domestic structure as nobody is interested in the players outside the national team. At times, I feel very lucky to be able to play cricket in Bangladesh despite all the limitations.