A dream taken from Bangladesh to Portugal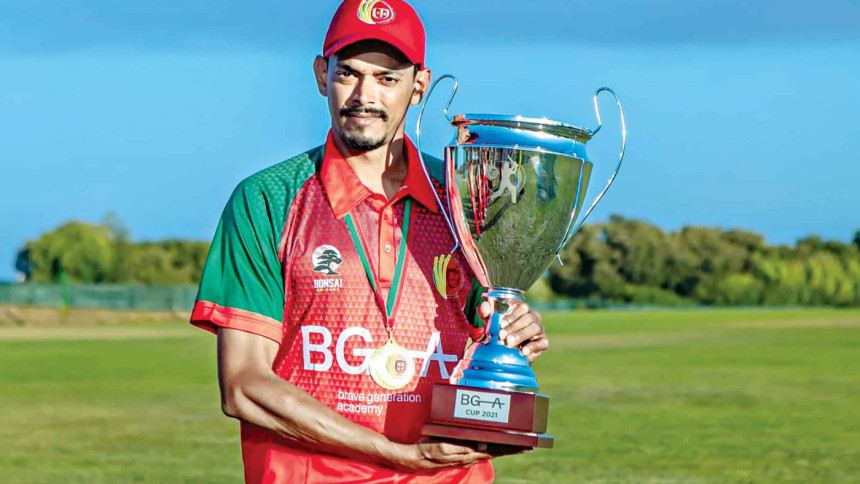 While there are those who are tempted to abandon their dreams after a major hurdle, the story of Siraj Ullah Khadem illustrates the possibilities that can be found when an individual never stops chasing their dreams despite the cruel twists of fate.
Sirajullah, better known as Nipu in the cricketing fraternity, was one of the brightest young cricketers in Bangladesh and touted as a prospect for the national team. A left-handed middle-order batsman who could also come in handy with his medium pace deliveries, he was considered one of the best young all-rounders in the country and played in all national age-level teams, the Dhaka Premier League and first-class competitions in Bangladesh.
He even played for Bangladesh in the ICC Under-19 World Cup in Sri Lanka in 2006, alongside stalwarts of Bangladesh cricket like Shakib Al Hasan, Tamim Iqbal and Mushfiqur Rahim.
But Nipu crash-landed after suffering an injury to his left eye in 2009, which eventually saw him having to give up professional cricket. "It happened in 2009, when I was practicing in Habiganj to prepare for the upcoming Dhaka league. A ball hit my left eye while I was batting in the nets and I had to rush to hospital. I did whatever I could to overcome the injury. I desperately wanted to return to the field, but I also had some limitations at that time," Nipu said.
The period that followed was probably the toughest of Nipu's life and, in 2014, the cricketer from Brahmanbaria decided to take his fortunes into his own hands and seek a new beginning in Portugal.
But, like they say, you can leave a place but not your passion. Despite moving to Portugal, Nipu found a way to reconnect with cricket and, after recovering from his injury, began to live his dream of becoming an international cricketer again.
Nipu began to play the domestic T20 competition organised by the Portugal Cricket Board and also began the process to become a Portuguese national, which he became in 2020.
By that time, Nipu, who had switched from medium pace to left-arm spin, caught the eyes with his all-round performances.
Last year, Nipu was selected for the Portugal national cricket team. He will represent the European country in the upcoming 2024 ICC T20 World Cup qualifiers in Belgium.
"It was a tough decision for me to leave the country and move to Portugal because I was not sure whether I would be able to play this game ever again. I used to dream of representing Bangladesh in international cricket, but that was brutally shattered. Once I came to Portugal, I began to dream of playing international cricket again, even if it is for Portugal," Nipu said over phone.
"I am very proud to be representing a national team. I hope Portugal will play against Bangladesh in international cricket one day and I will be able to compete with my friends Shakib, Tamim and Mushfiqur."
Nipu, who is currently playing for Alexandra Cricket Club in the Middlesex County League in the United Kingdom, can serve as an inspiration for youngsters to continue chasing their dreams despite the setbacks of life.