Captaincy affecting Mominul's basics?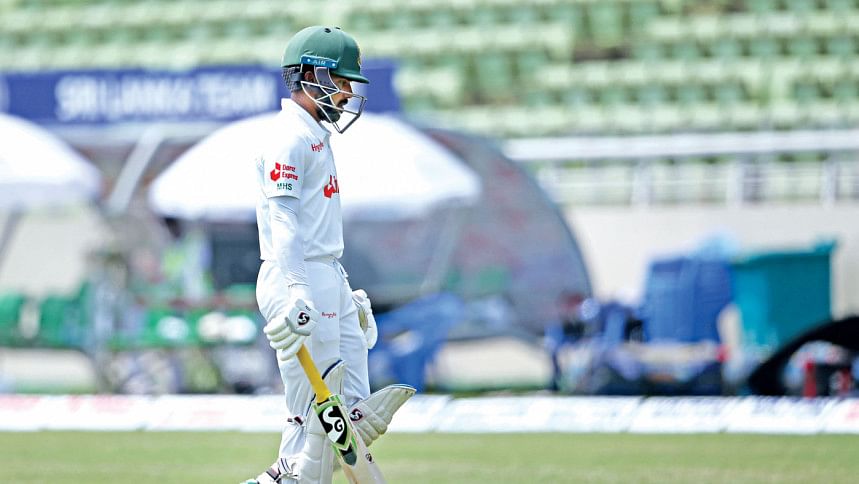 Whether the captaincy took a toll on Test captain Mominul Haque's batting was a major talking point during the recently-concluded Test series against Sri Lanka at home and, following a 1-0 loss in the two-Test series, there appears to be a hurry to get the issue sorted.
BCB president Nazmul Hassan said that he had spoken to Mominul about his struggles with the bat, adding that there were no issues regarding his captaincy. However, team director Khaled Mahmud publicly wondered whether captaincy was affecting his batting. More and more, it appears that the concept of having a captain underperform in his role as a batter is becoming an issue for the cricket board.
The BCB president told reporters that he was going to sit with Mominul again after the series ended and it appears that the fate of Mominul's captaincy hinges on that meeting
The 30-year-old was still named captain of the Test side when the squad for the upcoming West Indies tour was announced. But while speaking to media yesterday, BCB cricket operations chairman Jalal also pointed to that upcoming meeting as pivotal.
Mominul, who has the most Test centuries among Bangladeshi batters, has averaged just above 14 in his last 11 innings, starting from the Mount Maunganui Tests. In New Zealand, he played a crucial role with the bat in the first innings, but has since been a shadow of himself.
"Captaincy is an extra pressure. When he's not scoring runs, maybe it's becoming an issue in terms of inspiring others. That could be causing an inferiority complex. Maybe it's putting pressure on him when he is batting as well. He will take a decision based on what will be good for him," Jalal said, indicating that any decision would be left up to Mominul.
It is definitely a rough time for one of Bangladesh's most successful batters in Tests although Mominul previously stated that there were no concerns over his form. The left-hander was focused on working on his batting yesterday at Mirpur, with Nazmul Abedeen Fahim, a mentor to many national team stalwarts, by his side.
Fahim said that Mominul appeared less fundamentally sound in recent times.
"During a lean patch, a player might try to do well. But oftentimes it can make the situation worse. Then they stray from the basics. We worked on his basics. I think, at one time, his basics were good. But not at the moment. So, we worked on it and it's looking better than before. After a day or two's work, it will get better," Fahim told reporters yesterday.
"If he was scoring runs, there wouldn't be any talk about captaincy. Since he has found it difficult to score runs, some pressure has built up so there will be discussions. He will have to answer those questions," Fahim said.
Mominul was thrust into the captaincy hotseat during Bangladesh's tour of India in 2019, right after Shakib Al Hasan was banned by the ICC. Since then, Mominul, not always an outspoken character, took the burden of a side limited in Test capabilities.
Whether the BCB feels now is time for a change remains to be seen. But if this was about due process, putting further pressure on both Mominul the batter and the captain ahead of an important series could have unintended consequences.