Can Shakib take Test culture forward?
Shakib Al Hasan was named Test captain yesterday after a few days' pandemonium following Mominul Haque's urgent message that he did not want to carry on captaining the Test side. Liton Das was named Shakib's deputy.
It will be Shakib's third stint as Test captain and his first assignment will be the tour of West Indies. It was also on a tour of West Indies when a then 22-year-old Shakib was first handed the reins after injury to Mashrafe Bin Mortaza.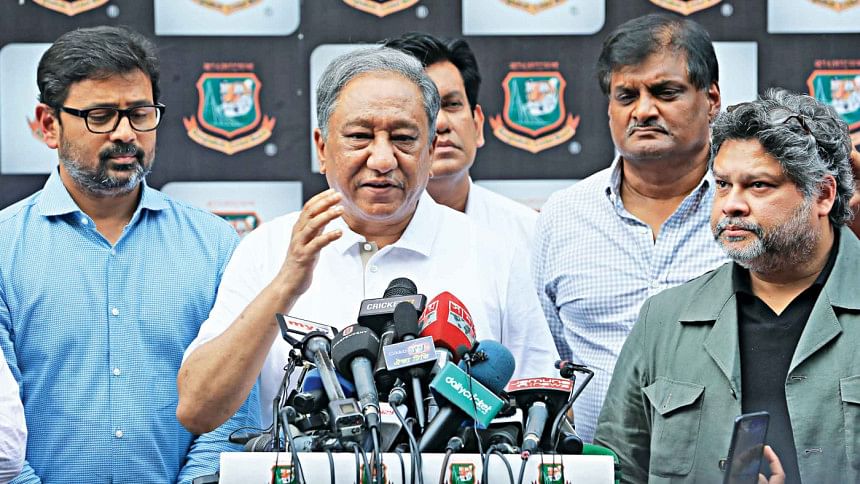 Shakib was replaced by Mushfiqur Rahim before turning around and replacing Mushy in 2017, Bangladesh's most successful Test captain in terms of wins. Including his second stint, Shakib captained the side for 14 games, recording three wins and 11 losses.
However, he had to give up the captaincy after the ICC levied a ban on him in 2019 for failing to report corrupt approaches. Mominul Haque was named captain for the tour of India after Shakib's ban.
As the southpaw was named captain for a third time, there were concerns among BCB higher-ups, especially in regards to his availability.
During the second Test against Sri Lanka in Dhaka, Shakib told the media in a press conference that there were no replacements for Mominul as Test captain and that everyone should back Mominul.
When the BCB approached Shakib following that Test regarding taking over the role, Shakib told them he was willing. However, BCB president Nazmul Hassan Papon could not comment on the duration that Shakib would serve as captain, leaving speculation about the conditions provided by the player and the board.
Three names were put forward for the leadership roles during yesterday's meeting, the BCB president said without naming the third player, who was widely touted to be Mehedi Hasan Miraz. The BCB president added that if Shakib had not taken up captaincy, the other two would have been named as captain and vice-captain.
There was also no indication whether Shakib was a long-term solution. "From what I have discussed, he wants to play [Tests]. After the West Indies series, there is the Zimbabwe series and he is still uncertain for that one. It's difficult to say how long he will stay captain," Nazmul said yesterday.
Bangladesh's Test-playing abilities have frequently been questioned. There were many concerns over Mominul's leadership and it is believed that Shakib, a top performer, will find it easier to lead the side and also garner the respect of others.
However, under Mominul's leadership, the team had found a certain balance. He was also the captain that developed a pace-bowling culture, which saw a revitalised Test team in away conditions. The Mount Maunganui victory was supposed to be a precursor to a pronounced Test culture. But what changes will Shakib's appointment lead to?
Will Shakib take that team culture forward, or will it be a similar dependency towards spin at home which was seen during West Indies series at home? Those are questions that only time can answer.
The BCB president also said that the board was not bothered by the matter of integrity in appointing Shakib despite having been banned by the ICC once. "There was a clear difference between the punishment and the statement which was given to him by the ICC," he said.
Many questions remain. Shakib's ability to inspire others and his ability to perform under pressure will come in handy in his third stint but it remains to be seen whether Bangladesh can take any real steps in terms of improving the Test culture, especially with so many questions about their captain's whims and unpredictability.