Bijoy reveals Zim chasing 304 shocked Tigers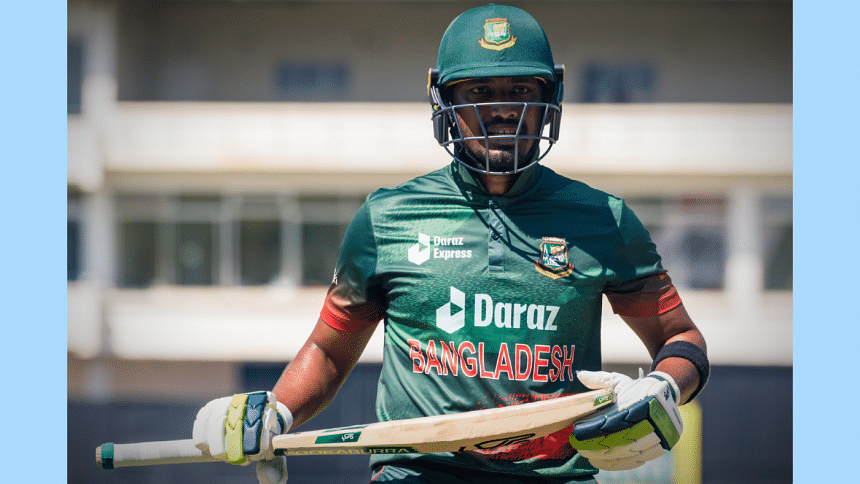 Bangladesh wicketkeeper-batter Anamul Haque Bijoy revealed Bangladesh were shocked after hosts Zimbabwe chased a high target of 304 runs in the first match of the recently concluded three-match ODI series.
The Tigers, who started the tour by losing the three-match T20I series, eventually went on to concede the ODI series against Zimbabwe after nine years.
Bangladesh team returned home today empty-handed following a disappointing Zimbabwe tour.
"Obviously we were very shocked after the defeat in the first ODI. We were unable to perform according to our expectation," Bijoy told the media at the Hazrat Shahjalal International Airport in Dhaka today.
"Obviously we all felt bad and when we saw the second game also going in the same way, we were a bit nervous. I think this was the series where we were unable to give our hundred per cent."
Although Bijoy was unable to perform in the T20I series -- scoring 16 and 14 runs, respectively -- the right-handed batter made his mark on his return to the ODI format after three years.
The 29-year-old made a comeback to the national team on the back of his world-record performance in the Dhaka Premier League earlier this year, where Bijoy tallied a whopping 1138 runs in 15 games at an average of 81.28; including nine fifties and three hundreds.
Bijoy still had to wait for his ODI return despite being part of the squad in West Indies but he finally got a chance to prove his worth during his comeback game in the first ODI against Zimbabwe. However, Bijoy's 73 off 62 balls went in vain eventually as the Tigers lost the game by five wickets.
He scored 20  and 70 in the following games and thus remained in contention for a place in the upcoming Asia Cup squad.
"Obviously it felt good to be back in the ODI side after a long time as I was very excited," Bijoy continued.
"I have worked really hard during this period and since I got an opportunity after three years I tried to utilise that and tried to do the process right.
"Obviously I would have felt better if my performance helped the team to win. It was not easy to beat Zimbabwe at their den as they played better cricket. We also made some mistakes which is the reason why we lost the series. I will try to continue to give my best in the coming days as well," Bijoy concluded.