From being taunted to being admired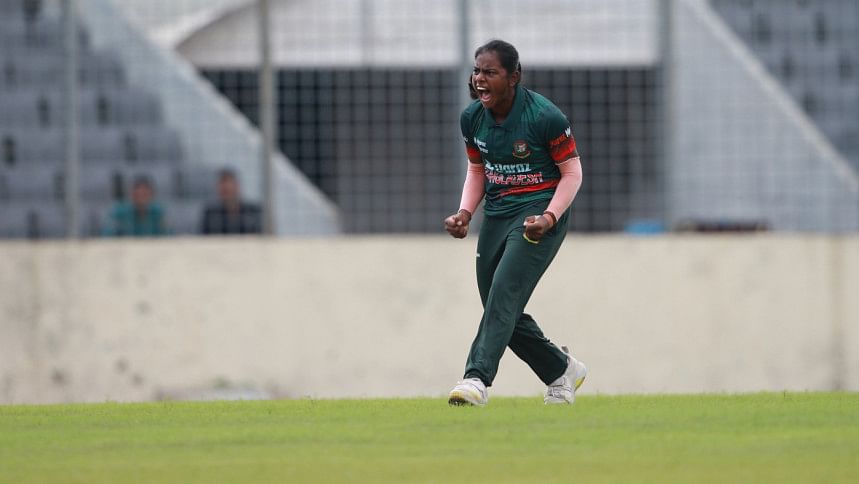 Marufa Akter has emerged as the new sensation in Bangladesh women's cricket team. The youngster from Nilphamari was instrumental behind the Tigresses' maiden ODI win against India, picking up four wickets in the opening match of the three-match series recently. The 18-year-old pacer then held her nerve to defend three runs in the final over in the final ODI as Bangladesh tied the game and drew the series 1-1. Marufa spoke in detail to The Daily Star's Mazhar Uddin, opening up about her bowling, life, future plans among many other topics during an exclusive interview, the excerpts of which are as follows:
The Daily Star (DS): Did you set any target for yourself before the series against India?  
Marufa Akter (MA): To be honest, it was always my dream to play at the Sher-e-Bangla National stadium in Mirpur, and before the start of the series I said to myself that if I got the opportunity I would give my best. I actually didn't see the names or faces of the opposition players as it was a game of bat and ball. I tried to maintain my line and length and all went well.  
DS: Did any of your relatives go there to watch the games?  
MA: Yes, my brother went to watch the game all the way from Nilphamari. He watched all the matches from the gallery.  
DS: How did it feel playing in front of a family member?  
MA: I can't tell you how it felt, it was probably one of the best moments of my life. When you play and you get to see your brother watching you play from the stands, that too after travelling a long way, it is something I feel great about.  
DS: What is the reaction in your hometown? Do other girls want to become a cricketer like you?  
MA: To be honest there are not many girls in my village who would want to be a cricketer as most of those of my age have got married already.  
DS: But the interest must have grown after seeing you play like this?  
MA: Maybe, but I don't know to be honest.  
DS: Let's hear about your bowling.
MA: When I started off, it was all natural. Maybe it was not at the best of shapes but as things progressed, I started to work on various aspects of my bowling. My coaches helped me a lot and day by day my pace has increased while the line and length have improved. I also had the urge to reach the top and followed the instructions of my coaches.  
DS: You picked up four wickets in Bangladesh's maiden ODI win against India. Tell us about that game.  
MA: I always wanted to do something for my country and was eager to contribute to my team's success. I was backed by my captain [Nigar Sultana] Joty apu as she always encouraged me by saying that I am the best bowler in the team. She also told me to just maintain my line and length as she felt the opposition won't be able to play me properly. I felt the same too. I bowled according to the line and length and it worked.
DS: What was going through your mind when you had three runs to defend in the final over in the third ODI?  
MA: Once again Joty apu came to me and told me to keep belief in yourself. When they got two runs off the first two balls, I felt that I shouldn't get nervous, instead the batters should get nervous. 
DS: Who do you follow as a bowler?  
MA: I follow Hardik Pandya. In Bangladesh, I follow Mustafizur Rahman bhai. Many say that I am the female Mustafizur (smiles).  
DS: Where do you want to see yourself from now?  
MA: My target is to play in foreign leagues such as IPL, Big Bash, CPL. Hope that I can perform for Bangladesh and give my best.  
DS: You have become a big star in Bangladesh cricket at a very young age. What would be your message to young girls who want to play cricket?  
MA: There will be hurdles from family and society. The desire must come from within yourself, and if you have the urge to become something, you have to work hard for it. I faced a lot of hurdles in my life but I was able to overcome those. People used to taunt me when I started playing since I was the only girl from my area playing cricket. But now when I go to my village, people come to see me and it feels good. People now tell my mother that they never imagined that her daughter would reach the top.  
DS: Who is your best friend in the national team?  
MA: Most of my teammates are senior to me. Shorna [Akter] apu is the youngest among them. So the two of us have a lot of fun together.