Kohli's 'sweetest' victory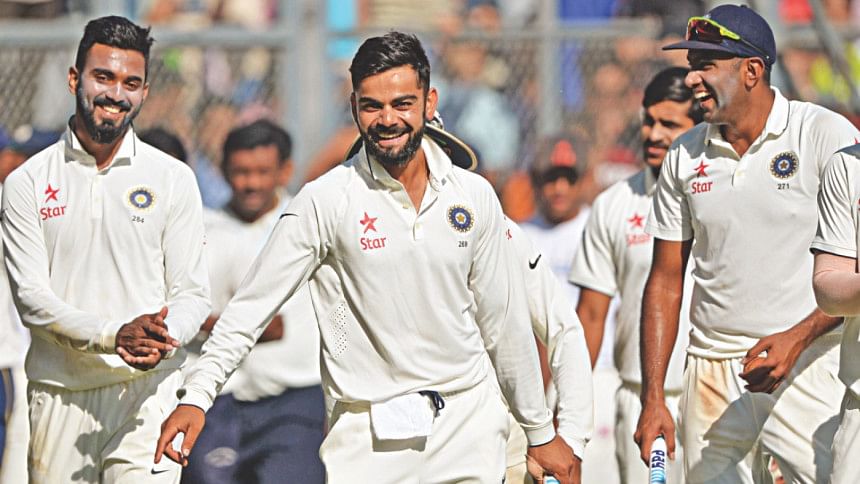 Virat Kohli hailed India's series win over England as his "sweetest" as captain on Monday after the hosts humiliated the tourists by an innings and 36 runs in the fourth Test.
Off-spinner Ravichandran Ashwin tore through England's lacklustre lower order in just half-an-hour in Mumbai as India clinched the five-match series 3-0 with a game to spare and equalled their longest unbeaten run.
England started the final day at the Wankhede Stadium trailing by 49 runs with four wickets remaining, and needing something extraordinary to avoid defeat.
But Ashwin grabbed all four wickets to send England crashing to 195 all out and finish with figures of 6-55 in the innings, and 12 scalps in the match.
Skipper Virat Kohli was named man of the match for his brilliant double century in a win that confirms India as Test cricket's top side and avenges their two consecutive series defeats to England.
"This series win is probably the sweetest we have had in the last 14-15 months," said Kohli.
India have now won five straight series under Kohli and are unbeaten in 17 Tests, which equals their best-ever run which was set back in 1987.
After the game, England captain Alastair Cook hinted that he may step down after the series, saying Joe Root was ready to be captain.
"What I said sticks true to the end of this series. Then I'll sit down with Straussy [England's Director of Cricket Andrew Strauss] in the new year, like we made that pact to always talk openly and honestly about stuff."
"I think Joe Root is ready to captain England. He's ready because he's a clued on guy, he's got the respect of everyone in the changing room.
"He hasn't got much captaincy experience but that doesn't mean he can't be a very good captain," Cook added, saying the magnitude of the task should not be underestimated.
At one point, emotions then threatened to boil over as Ashwin approached and exchanged words with James Anderson as he came into bat. He walked with him down the crease, forcing Virat Kohli to intervene and play the role of a peacemaker.
Kohli, who is known for his feisty demeanour on the field, joked that "for the first time I was trying to calm down things down".
"I was laughing but Ashwin wasn't too impressed so he let him know. He didn't use any bad words, honestly," said the captain.
The fifth Test, which is now a dead rubber, starts in Chennai later this week.
SCORES IN BRIEF
ENGLAND: First innings 400

INDIA: First innings 631

ENGLAND: Second innings 195 all out (Root 77, Bairstow 51, Cook 18, Stokes 18; Ashwin 6-55, Jadeja 2-63)

Result: India won by an innings and 36 runs and lead the 5-match series 3-0.

Player-of-the-match: V Kohli.