Kohli's jig and Tamim's close shave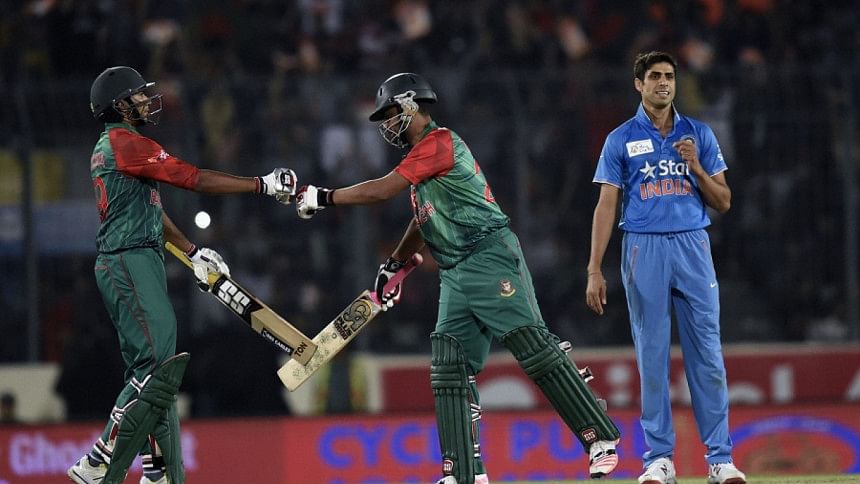 The celebration
Virat Kohli ran in, veered a bit to his left, then planted both feet apart, propped his hands up in a reverse cup and collected the offering. A silly old swipe from Mashrafe Mortaza, who had promoted himself to No. 6 to upset the choke hold India's bowling had over his team, backfired immediately. Kohli shot a glance at the crowd behind him, and indulged in a little strut. Unfavourable crowds can also spur the team on, India's team director Ravi Shastri had said. Might have just did then.
Tamim's close shave
Non-strikers often say they have the best seat in the house during a game of cricket. Tamim Iqbal may have reason to take offence to that. He had no time to admire a stinging straight drive from Soumya Sarkar at the other end, because he was in the line of fire. Tamim got into a crouch and might even have felt is shirt rustle as the ball skimmed over his shoulders - which at the time were barely three feet from the gound - on its way to the boundary.
Fun all around
Ashish Nehra bluffed Mahmudullah by taking all the pace off and bowling a really full, really wide ball. It was the 13th of 15 overs, so a new batsman may have been tempted to go for a slog. This one didn't - Mahmudullah read the slower ball, guided it into the gap behind point and seemed set to have his first boundary. But Hardik Pandya ran a good distance to his left from deep cover, dived and relayed the ball to a friendly face - R Ashwin had come over to help from third man and it was kept to only two. Just about perfect cricket.
The overdue making up
All of Mirpur was screaming their heads off but Soumya Sarkar was merely sighing in relief. He's not had the best luck in the slips - three drops - and when Rohit Sharma flashed hard outside off stump in the second over - he may have felt a bit jelly-legged. It was a thick edge, it was coming at an awkward height just over his stomach and it wasn't coming straight at him. Bangladesh definitely needed this wicket. An early wicket. Rohit's wicket. He'd made 62 in 27 balls the last time he was dropped by Bangladesh. This time he was walking back for 1 as Soumya clung on.