'I try to provide balance for my team'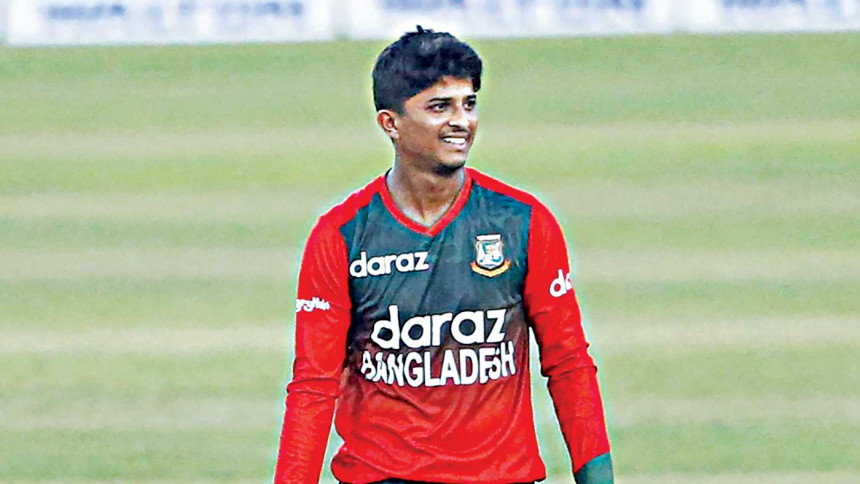 Off-spinner Mahedi Hasan's emergence as the new-ball bowler for Bangladesh has turned out to be quite a revolution. The 26-year-old is set to participate in his maiden ICC World T20 where the cricketer from Khulna is expected to play a crucial role, both with bat and ball for the Tigers. Mahedi opens up about his game along with a few other topics during an interview with The Daily Star's Mazhar Uddin. The excerpts of the interview are given below: 
Daily Star (DS): How's the feeling of getting into Bangladesh's World Cup squad for the first time?
Mahedi Hasan (MH): Alhamdulillah. If everything goes well, I'll be playing my maiden World Cup for Bangladesh. It's a great feeling for any player, to be honest. Previously, I used to watch world cup games on TV and thought about playing in this mega event myself. It's a matter of huge pride indeed and I'm totally looking forward to making this opportunity count.
DS: You've a crucial role of bowling in the power-plays with the new ball where you often pick up early wickets as well. Is there any specific role which the team management expects from you in the upcoming World Cup?
MH: I think it's the player's duty to prepare himself in a manner that the team can utilise him for whatever role, according to the demand. Obviously, I've a run-containing role with the ball in the power-play, where the batters come hard at you. Therefore, during that period, it's important to bowl as many dot balls as possible. To be honest, I never think about wickets but prioritise on what's best for my team. For example, I'll choose a positive contribution of 20 runs from four overs instead of five wickets for 50 runs that doesn't help my team's cause.  
DS: Obviously, the pitches during the home series against Australia and New Zealand favoured the bowlers and the upcoming World Cup in Oman and the UAE is expected to feature sporting tracks. How will you adjust to such surfaces?
MH: We all know the ICC events offer sporting tracks, where there'll be big scores. But if you notice, a good ball is always a good ball regardless of the pitch and so, my focus is to bowl at the right areas consistently. I've some knowledge about the conditions at UAE from my experience of playing in the T10 league there.
DS: How much is Shakib Al Hasan's influence in the spin department?
MH: Shakib bhai leads the spin department whenever we are on the field. He's like our on-field spin bowling coach who reads the game and gives us the appropriate feedback in a flash. When he comes and tells you exactly where to bowl by targeting a batsman's strengths and weaknesses, I think that's simply incredible.
DS: According to the head coach, you're the free-player in the side, where the team management can use your batting ability in any position based on the situation. How do you see your batting role?
MH: Look, I've always seen myself contributing as an all-rounder. I love batting and I also like to charge the bowlers. So, if the team requires something like that early in the innings, I am all up for it. At the same time, it's equally important to rotate the strike in the middle overs and use the long handle in the latter stages of an innings. I try to provide balance for my team where I can be utilised in any means possible.
DS: Who do you see as your idol?
MH: Shakib bhai [Shakib Al Hasan], whose aggressive attitude I'm really fond of. I still remember being thrilled to take a picture with him when I first saw him. When I first played alongside him in the national league, I recall looking at him the entire day. He is the best.