'An improvement on Wellington'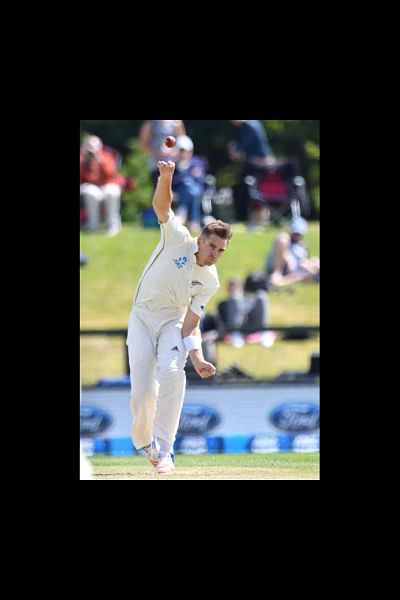 Rookies Soumya Sarkar and Nurul Hasan, along with middle-order batsman Shakib Al Hasan, led a makeshift Bangladesh side to a competitive 289 but New Zealand claimed the honours on Day One of the second Test in Christchurch yesterday.
"I think if you can bowl a side out on Day One then I guess it's a pretty good effort. They came out with a positive intent and looked to put any balls that we missed away to the fence, and they especially did that in that period before lunch," New Zealand strike bowler Tim Southee said after taking his sixth five-wicket haul.
Despite removing stand-in captain Tamim Iqbal and Mahmudullah Riyad within the first 11 overs, the hosts found it difficult to break the 127-run stand between Shakib and Soumya, and Southee admitted that the bowlers were not at their best.
"We were pretty good at the start, then they got a bit of a partnership going," Southee said. "We knew if we could hang in our areas for a long period of time it was our best chance of taking wickets. So once we got that right we looked more effective."
"I think we were a little bit off still, but it was an improvement from Wellington. We managed to crawl the run-rate back a bit there towards the end, so yeah I think it's a good day," he continued.
Southee also addressed one of the major problems that has plagued the Black Caps in the Test series -- their fielding.
The hosts dropped three chances today, adding to their seven drops in the first Test at Wellington.
"It's part of cricket. No one means to drop a catch. We've dropped a few in the last couple of games, we set a high standard as a fielding group in all three formats, so it is disappointing," Southee said.
"We put a lot of work into our fielding," Southee said. "We pride ourselves on our fielding and that's because we do a lot of fielding work at training.
"It's not a skill thing, we know everyone can catch and has done, it's just a coincidence in the last couple of games we've put a few catches down, which isn't ideal.  But we still managed to take 10 wickets today."