High of the Tiger
Indian media laud Tigers, bemoan Team India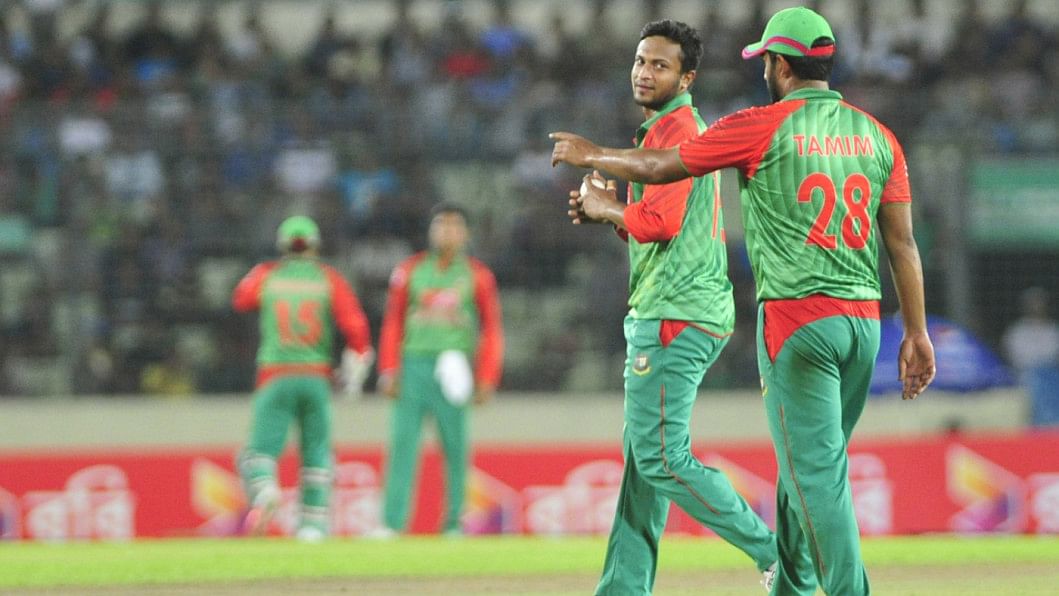 As the Bangladesh newspapers yesterday eulogized the Tigers for their first-ever series victory over India, with banner headings and blow-up pictures on the front pages, the news media of the neighbouring country was working out what went wrong for the 'mighty' Indian team while giving due credit to the Tigers.
The opening sports page of Indian Express ran a match report titled: Now playing: High of the Tiger, with a flavour of how much anticipated and eagerly awaited the victory was to the Bangladesh fans. The story started like this: It was more than three hours to go before the start of the second one-day International between Bangladesh and India, but there was already a festive atmosphere at the Sher-e-Bangla stadium. People had turned up not only from Dhaka but from neighbouring districts and far flung areas as well. Braving heat, hunger and thirst -- it was the third day of Ramadan and the longest day of the summer -- they had gathered here to witness the team make history.
This leading Indian newspaper also ran Mahendra Singh Dhoni's dismissive replies at the post-match press conference regarding his captaincy and selection of the team while another article questioned the decision to drop Ajinkiya Rahane in favour of Ambati Rayudu.
'Magical Mustafizur wrecks India again' headlined Times of India. Surprises and shocks were dished out in equal measure on Sunday at the Sher-e-Bangla National Stadium where Bangladesh recorded a historic ODI series win over India. On a day when Indian cricket sunk to a new low and Bangladesh cricket came of age, Mashrafe Mortaza's youthful brigade hammered out a six-wicket win in the second ODI to eke out an unbeatable 2-0 lead in the three-match series, the story commenced.
'Bangladesh outdid India, plain and simple' exclaimed another story of the same newspaper. This was not an upset. Those days are gone. Bangladesh are no more pushovers, with this team being their most settled ever, analysed the story.
'Mustafizur has India's number again' was the headline of a match analysis in The Hindu, which piad high praise for the young left-armer, saying: With the precision of a computer-operated missile, he (Mustafizur Rahman) used his deadly 'cutter' to perfection.
'The heat is on Captain Cool' cried another story of the same newspaper. No doubt, India's one-day captain MS Dhoni is going through one of the toughest tests of his cricketing career. His long walk back to the pavilion after being bamboozled by 19-year-old Bangladesh pacer Mustafizur Rahman spoke a lot about Dhoni's state of mind. A teenager had treated his high-profile side with disdain twice in succession and left a deep impact on Dhoni. He never looked the same 'Captain Cool' every Indian fan took pride in, opined the story.