Emerging Cup for an emerging Azmir?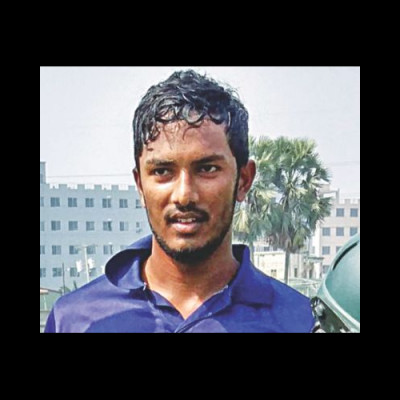 His name was only heard after he made a barnstorming 222 in a First Division Cricket match at the BKSP in February this year. Following that, the selectors wanted to see him in the nets just out of curiosity, but Azmir Ahmed gave them some food for thought. The selectors picked him in the practice matches for the Emerging Teams Asia Cup and he capitalised by making an unbeaten hundred, impressing the selectors so much that he now finds himself in the 15-member squad for the Emerging Teams Asia Cup which was announced yesterday with Mominul Haque as captain.
Chief selector Minhajul Abedin and selector Habibul Bashar both lavished praise on him, with the former saying: "He [Azmir] is a different kind of batsman and he has got tremendous potential."
"This guy has got the temperament, technique and power. We were really impressed by his practice match performance. I must say he has tremendous quality as a batsman and that's why we gave him a chance. If he is sincere and we can nurse him properly, then this guy will be an asset for us in the future," said Minhajul.
"Honestly, we didn't know anything about him until he made a double hundred. Because of his double-hundred we called him to the nets and he impressed us enough to select him for the practice match. And the way he played those two practice matches was simply outstanding," said Bashar.
"He played against established players but showed no nerves. From experience I can tell you that he is a totally different type of batsman. It was amazing the way he smashed a six over point and how he played most of his shots through the mid-off and mid-on areas. I don't know how long he will go but he has tremendous potential."
However, Mominul's selection as captain for the eight-team competition was also a talking point as the left-hander's fate in the limited-overs format for the national side are bleak.
"He deserved it," was the short explanation from Bashar.
"Mominul is a very good cricketer and we won't write him off for limited-over cricket; rather we included him to keep him ready so that he can be included in the national side any time if required," added Minhajul.
Bangladesh, who have been pitted in group B along with Pakistan, Hong Kong and Nepal will play their opening game against Hong Kong on March 27.