Courtney's impact will be bigger in Tests: Mashrafe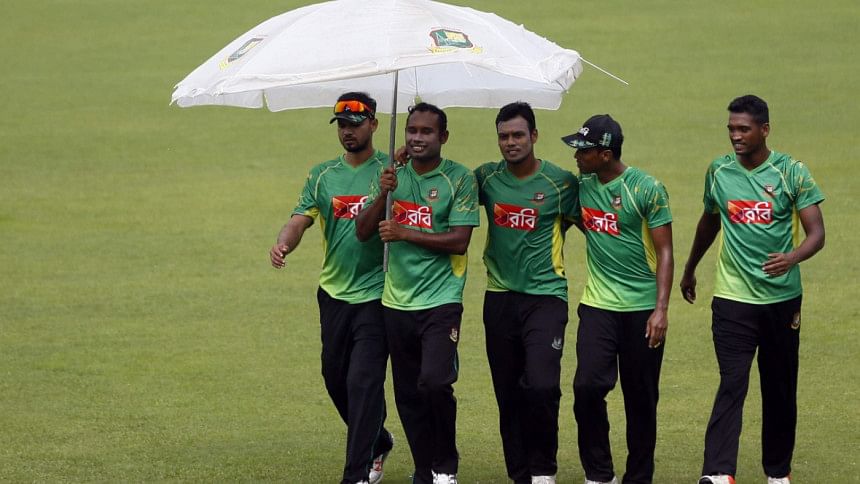 There is no guarantee that a great cricketer will become a great coach. In modern cricket, to become a successful coach one has to deal with many of the finer aspects of the game apart from issues of physical fitness or physiological aspects. So you may argue that we have to wait to see how big a forward step the Bangladesh bowlers can take under the tutelage of a great like former West Indian fast bowler Courtney Walsh.
But the aforementioned issues cannot come to the fore right now when news is still fresh of a legend like Walsh joining the camp. And you can take it from none other than Mashrafe Bin Mortaza who made it clear that the presence of the 53-year old West Indian great will make a big difference. He said that his experience will make a huge impact particularly in the Test cricket, where the Tigers are yet to put their best foot forward.
"Having such a high-profile person like him in the team, not only the bowlers, I think it's a big deal to all the players and I hope this will have a huge impact on our bowling, especially in Test cricket. To have his vast experience in the dressing room will be amazing," said Mashrafe while he was talking to reporters yesterday at the Sher-e-Bangla National Stadium in Mirpur.
Another West Indies great Andy Roberts had a huge impact on Mashrafe's career as he was sent to a bowling camp run by Roberts -- then a temporary bowling coach – and the West Indian was impressed enough by his pace and aggression to make recommend his selection for Bangladesh A.
But the name of Walsh triggered a different emotion in Mashrafe as the tall paceman was his idol.
"Andy Roberts was a huge turning point in my career but through my whole career I have always said I was a fan of Courtney Walsh. Even when I was a kid, he was my favourite. So obviously now that he has come as our bowling coach I am more excited than anybody," said Bangladesh's limited-overs captain.
"He is such a great personality. He was one of the greatest bowlers in the world and I believe they were very passionate towards Test cricket. He has played 132 Test matches so if you go by the numbers then staying fit for so long shows that passion for Test cricket. That hunger which I have seen in him throughout, I believe if our bowlers can pick up those qualities then they will benefit," he continued.
"There are some specialties in bowling and each bowler has his own. And I think a coach like him will understand how to build up each player based on their specific technique. Overall, at the moment, the way he built his whole career is more important, it's as important as learning from matches," he added.
Mashrafe believes that the young and upcoming players will also be benefited by the presence of a bowler like Walsh.
"The opportunity for the young and upcoming bowlers is always there because during the national team's net session we have players from the Academy, promising bowlers who participate so he will be able to see and guide them as well. Everyone will get that opportunity," said Mashrafe.