Conditions present immense challenge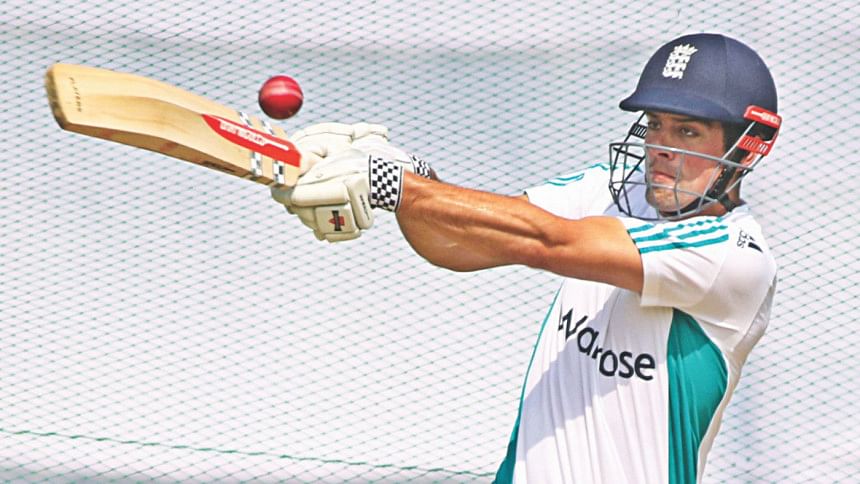 Alastair Cook will become England's most capped Test cricketer Thursday when he leads his country into battle for a series against Bangladesh, only days after attending his daughter's birth back home.
Cook will win his 134th cap at the start in Chittagong of a two-match series in which England will hope to maintain a perfect Test record against the hosts.
Along with Australia, England are one of only two teams to have won all of their Test matches against Bangladesh since the nation joined cricket's top table 16 years ago.
And after an impressive victory in the preceding one-day series, England will fancy their chances of extending that 100 percent record with the likes of Cook and fast bowler Stuart Broad back in the mix.
Cook had been acclimatising with his teammates in Bangladesh before flying back home last week for the birth of his second daughter. After arriving back in Bangladesh on Monday night, Cook took part in nets on Tuesday at Chittagong's MA Aziz Stadium but admitted that his side will have a hard time in dealing with the conditions in Bangladesh.
"It's an immense challenge playing in these conditions so respect to Bangladesh and also the guys in the England squad. You are testing yourself in conditions that are very alien to English players so you can't just expect to turn up and play and do well, you've got to put those hard yards in. I can't remember doing 10 weeks on the subcontinent."
"Now it's just about acclimatising to the heat. I'm really grateful to the one-day boys to fit me in there because I'd have felt pretty rusty if I hadn't hit a ball for a while," he said, referring to his practice sessions in the nets while England were playing the one day series.
Cook, who missed both of England's warm-up games while attending to his family, told Sky Sports: "It was a proud day, quite an emotional 48 hours.
"It's great that mum and baby are doing very well. [They are] very special moments but I'm out here now so I've got to go and play some cricket.
"There's every motivation that it won't be hard when you get out there because you know what you've left behind - it's not going to guarantee you any runs - but you can throw yourself straight in there and do the best you can because there is no point moping around.
Meanwhile, Cook's teammate Steven Finn has backed his skipper to fit back into the side 'seamlessly'.
"The amount of cricket that Cooky's played in the subcontinent, I think he'll fit back in seamlessly," the England pacer told reporters in Chittagong after the final warm-up match.
"I think you'd be a bit worried if it was someone who was less experienced, I suppose, and hadn't experienced these conditions before and spent time in the middle, because that's important."