Warner's right-handed stance 'within the laws'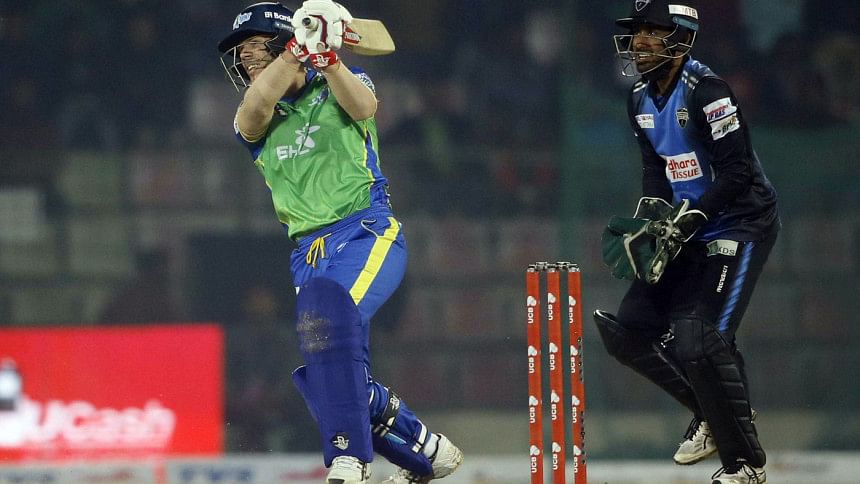 David Warner, the Sylhet Sixers captain, caught everyone by surprise when he switched his stance to a right-handed batsman's in the 19th over of the innings while batting against Rangpur Riders bowler Chris Gayle yesterday.
He struggled to hit the ball away while batting on 47 and then switched to a right-handed stance before hitting Gayle straight down the ground for six. He plundered 14 off the three deliveries while batting as a right-hander and today after reviewing the situation, MCC confirmed that Warner's actions were within the laws of the game.
While playing a T20I against West Indies in 2010, Warner had tried to bat right-handed against a Gayle-captained side but was denied the chance to do so and told by on-field umpires, that his actions were against the spirit of the game.
"MCC has reviewed the footage of David Warner switching to batting right-handed in the Bangladesh Premier League match yesterday and feels that his actions were within the Laws of Cricket," the MCC, the custodians of the Laws of the game, were quoted as saying by ESPNcricinfo.
"The Laws do not state that a batsman can bat only in one way and, from the footage seen, it seems clear that Warner made it obvious that he was changing to batting right-handed. The bowler, Chris Gayle, altered the field accordingly and everyone seemed to know what was happening."
Rangpur Riders coach Tom Moody said he was surprised to see it happen in a competitive match. "David Warner, right hand batsman, I'm not surprised to see him do it because I have seen him bat right-handed on a number of occasions having worked with him for a number of years. Seeing him do it last night was a surprise, though, in a match situation, in that given situation, but I'll never ever write off what Warner can't do," said the Australia about his compatriot.