BCCI against two-tier Tests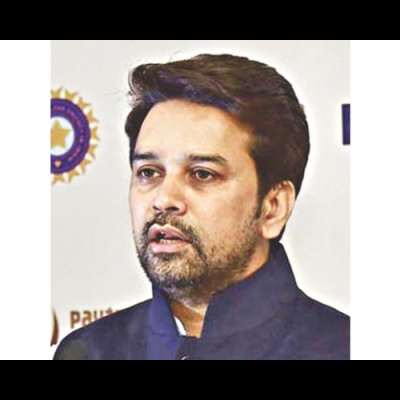 The head of India's powerful cricket board has voiced opposition to controversial plans for a two-tier Test system being considered by the game's governing body, a report said Wednesday.
Anurag Thakur, president of the Board of Control for Cricket in India (BCCI), told a newspaper smaller nations would lose out on revenue and the chance to compete against the top teams.
"The BCCI is against the two-tier Test system because the smaller countries will lose out and the BCCI wants to take care of them. It is necessary to protect their interests," The New Indian Express, a Chennai-based daily, quoted him as saying.
"In the two-tier system, they will lose out on a lot, including revenue and the opportunity to play against top teams. We don't want that to happen.
"We want to work in the best interests of world cricket and that is why our team plays against all the countries."
The International Cricket Council (ICC) first discussed the proposal to split Test cricket into two divisions at a meeting in Edinburgh last month and is due to debate the plan further in September.
Under the scheme being considered, the top seven-ranked teams would join a de facto premier league designed to boost interest in Test cricket.
The other three lowest ranked sides -- which are currently the West Indies, Bangladesh and Zimbabwe -- would then join a second division which would also include the likes of Afghanistan and Ireland.
Although England, Australia and New Zealand have all come out in favour of the proposal, India's opposition could well mean it is now dead in the water.
Former BCCI president Shashank Manohar is head of the ICC and India, which is the game's financial powerhouse, has a history of ensuring that its stance prevails on key debates within the global body.
The plan has been fiercely opposed by the likes of Bangladesh and Sri Lanka, which is at risk of falling outside the top seven after sliding down the rankings in the last year.
The smaller Test teams' financial survival largely depends on their ability to sell television rights to matches against teams such as India and England.