'Batting will improve if bowling does'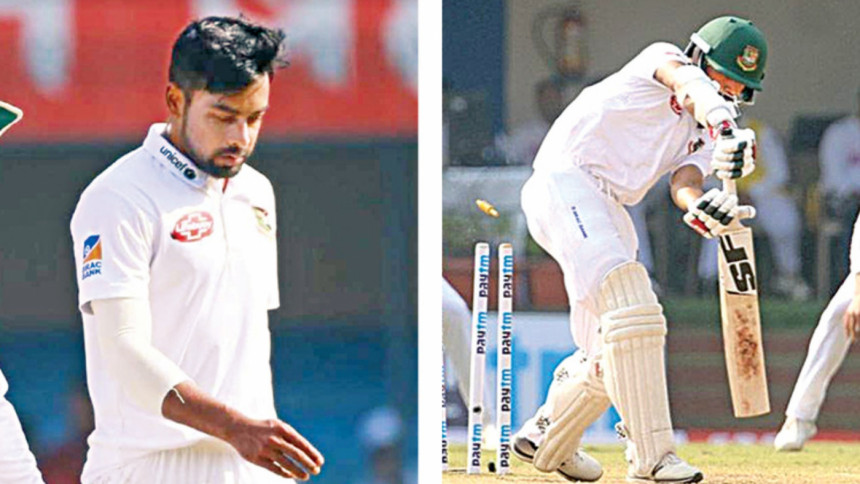 Bangladesh batsmen's inability to deal with a quality bowling attack like India's has been much talked about following the Tigers' meek surrender to the home side in a two-match Test series. Fingers have been pointed at technical frailties of the batsmen for the embarrassing defeats inside three days in each Test and there have been many suggestions about what the cricket establishment needs to do to overcome the batsmen's shortcoming in Test cricket.
Are there any quick remedies?
Of course, there are no shortcuts and only a longer-term policy coupled with a total overhaul of first-class cricket can change the scenario.
While most have been talking about the importance of improving the standard of batsmen, renowned local coach Mohammad Salahuddin -- who has seen many cricketers grow from their early career -- put emphasis on producing quality bowlers both in pace and spin departments.
"The batting standard of a country basically depends on its standard of bowlers. If you don't face quality bowlers in your domestic competition and in the nets, you simply cannot improve the standard of your batsman. Where will the clarity of mind come from if you don't have the experience of dealing with quality bowlers? This Indian team is the best example. Therefore, we need to take immediate measures to improve the standard of our bowlers," explained Salahuddin.
"We got a few successes at home following a particular strategy. But look, we have been struggling for a good pace bowling unit from the very beginning and we have had hardly any bowlers who could take wickets in Test cricket. For a while there was a unit when Mashrafe-Shahadat [Mashrafe Bin Mortaza and Shahadat Hossain] were there. We are talking about our spin strength, but why? Our spinners are only good in typical home conditions but we don't have many spinners with the ability to apply variations in the other conditions. Shakib Al Hasan may take wickets using flight because of his experience, but our spinners hardly have any idea about what they need to do when there is no turn," he continued.
Salahuddin suggested that the board must take a massive initiative to form a good bowling unit and bring a number of pacers and spinners under a long-term training programme. "The culture of focusing only on the national team players must change," he said.
He was not surprised by the results in India and instead believed that it was just one more time that the reality of Bangladesh cricket was exposed.
"There has been a lot of criticism about the inability of Bangladesh's batsmen after the India tour, as if our batsmen don't know how to bat. But I must say they are not habituated to this kind of bowling on such good pitches. If Shakib and Tamim [Iqbal] were there it might have been a bit different. Yes, our batsmen have the experience of facing 140kmph bowling, but if there is swing and bounce along with that speed, it's simply new to them. You need to take good preparation and have enough practice to face this challenge," he said.
"What is our reality? We are facing swing bowling at 125kmph speed," he added.
Salahuddin also requested the authorities to ensure that a team has sufficient time and opportunity to practice before participating in the first-class competitions. "Yes, the board are trying to improve the standard but my request is to take a measure so that all divisions can get enough time for preparation. Preparation is very important in modern cricket and we have to build it up at domestic level. We should in no way send a team for a match after two or three days' preparation," he suggested.
Salahuddin agreed with those who believe that the country needed to focus on the basic infrastructure to ensure good practice facilities for players all over the country and competitiveness in the domestic cricket.
He however seemed to have serious reservations about the commitment of the upcoming players.
"If Shakib and Tamim needed six to seven years to become world-class players, then their next generation should have achieved it by three or four years because this generation has got a better platform than the two stalwarts had. But I feel, maybe I am wrong, that players these days are only satisfied with a call-up to the national team and they have hardly any drive to become a world-class player. This is really a big concern for our cricket."
Salahuddin also stressed that the country's cricket culture and standard will not improve until highest priority is given to its Test cricket.