Afghanistan and Ireland eye Test Status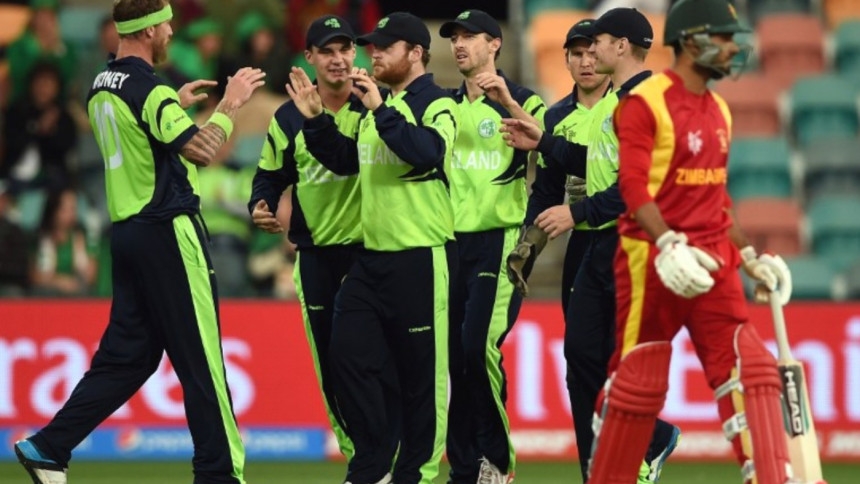 Afghanistan and Ireland hope to become the 11th and 12th Test match teams when the International Cricket Council (ICC) meets in London this week.
Afghanistan's fairytale rise in world cricket could this week see them acquire coveted Test status, a massive boost for a nation long divided by war and rived by ethnic rivalries.
No longer rank minnows, Asghar Stanikzai's team are up for consideration following their victories over Ireland in the Intercontinental Cup in March, paving the way for their potential entry into cricket's elite.
Both Afghanistan and Ireland are bidding to become the 11th and 12th nations to join the Test club, nearly two decades after their immediate predecessors Bangladesh, if confirmed by the International Cricket Council (ICC) at a meeting in London.
"A committee is working inside the cricket board, and we will work on our proposal to present it to the ICC in the future, and hopefully full membership and Test status are on the way," chairman of the Afghan cricket board, Atef Mashal told AFP during a recent interview.
"We can not give any time frame at the moment, it is upon the ICC, they will decide when to give Afghanistan the Test status, and it is not in our hands," Mashal said.
Unlike the sport's other major players, Afghanistan was never a colony of the British Empire.
Instead many Afghans' first contact with the sport took place during the 1980s and 1990s, as refugees who had fled to Pakistan to escape the Soviet invasion.
Cricket struggled under the hardline Islamist Taliban, who viewed sports as a distraction from religious duties -- and famously shaved the heads of a visiting Pakistani football team as punishment for wearing shorts.
But it has become hugely popular in the country since the regime was toppled in a US-led invasion in 2001.
-- IPL boost --
Recent successes, particularly in last year's ICC World Twenty20, have further raised the country's profile.
Spinners Rashid Khan, who idolises former Pakistan international Shahid Afridi, and Mohammad Nabi both made their mark in the Indian Premier League.
Khan was sixth-highest wicket-taker in his debut IPL with 17 scalps, and the pair broke into the top 10 of the ICC one-day international bowling rankings during the just-concluded tour of the West Indies.
Their former batting coach and former Pakistan skipper Rashid Latif said a place among the Test nations was well deserved and would benefit them in the future.
"Afghanistan deserves Test status because their performances are good. Once they get to play Tests, more and more players will come forward just like happened in Sri Lanka and Bangladesh -- Kenya suffered because they were not awarded," he told AFP.
"I think it will be the ICC's best decision of the century," he added.
Khan and Nabi are both Pashtuns, the country's dominant ethnic group with deep ties to Pashtuns across the border in Pakistan.
In years gone by Afghanistan maintained a younger sibling relationship with its eastern neighbour.
Kabir Khan, a former Pakistan international, coached the team from 2008-10 and oversaw their stratospheric rise from Division 5 od world cricket to ODI status.
-- Unifying force? --
More recently, however, the team has followed broader geopolitical currents and pivoted toward India, Pakistan's historic rival.
Last year, Afghanistan's national team shifted its base from Sharjah in United Arab Emirates to Noida, Delhi, while India's former batsman Lalchand Rajput replaced Pakistan's Inzamam-ul-Haq as their national team coach.
There are nevertheless questions about how well Afghanistan will do in the game's longest format.
Bangladesh famously floundered for their first decade while New Zealand took 26 years to win their first Test.
Case for Ireland
Ireland have beaten West Indies, England and Pakistan and now Cricket Ireland are targeting London on Thursday when they expect to be given Test match status by the International Cricket Council.
In February, the ICC agreed "in principle" that this week's meeting in London had "the potential to include additional Full Members (Ireland and Afghanistan subject to both meeting Membership criteria)".
Cricket Ireland understands there have been no hiccups since and they stand ready to take their place alongside the game's established powers.
It is all a far cry from the years when the highlight of Ireland's season was the visit for a one-off match by the touring Test team to England or, in alternate years, a two-day game at Lord's against MCC, invariably made up of Minor County players.
The old Irish Cricket Union was founded in 1855 -- Phoenix Cricket Club, founded 25 years earlier, is one of the oldest in the British Isles -- but it was not until more than a century later that the Ireland team first made the rest of the cricket world take notice.
On July 2 1969, Ireland dismissed the West Indies for just 25 at Sion Mills in a match recorded for all time by television.
It has gone into folklore that the West Indies, who had flown in the night before, after the conclusion of the Lord's Test, had immediately availed themselves of some typically generous Irish hospitality.
But whatever the truth of that, they were bundled out in 25.3 remarkable overs.
Ireland knocked off the runs for the loss of one wicket, but with the game over so quickly, the teams agreed to play on and West Indies even had a second innings, reaching a more respectable 78 for four, after Ireland had declared on 125 for eight.
Ireland were admitted to England's 60-over one-day competition, the Gillette Cup, in 1980 and almost made a dramatic impact, reducing Middlesex to 67 for five when the county replied to Ireland's modest 102.
But it was to be another 17 years before Ireland claimed their first victory in the competition, ironically in a home match against Middlesex, when the late South Africa captain Hansie Cronje was Ireland's overseas professional.
- World Cup wonders -
By that stage, Ireland had been given Associate Membership of the ICC and after three failed attempts to qualify for the World Cup, they used home advantage in 2005 to reach the finals in the West Indies in 2007.
It took only two matches for them to make their mark on the world stage.
After tying with Zimbabwe in their opening fixture, they turned up on St Patrick's Day to see a green pitch at Sabina Park for their match against Pakistan, and a sea of green in the crowd as thousands of Ireland fans took over the ground.
Ireland bowled out the number-four ranked team for 132 and won by seven wickets in what was Bob Woolmer's last match as Pakistan coach.
Tragically, the former England batsman was found dead in his hotel room the following morning.
When, three weeks later, Ireland beat Bangladesh in Barbados they joined the ODI rankings table and have been there ever since.
The celebrations back home in Ireland after the Pakistan win were nothing compared to those four years later when England were toppled in Bangalore, the day Kevin O'Brien became a world famous name with a 50-ball century -- still the fastest ever in a World Cup -- as Ireland chased down England's 327.
The 2015 World Cup finals saw Ireland claim two more Full Member scalps as Phil Simmons inspired his adopted team against both his native West Indies and then Zimbabwe, each time with totals over 300.
Given all these achievements, it's little wonder Ireland feel ready to be put on a level playing field with the other 10 Full Members.