'AB de Villiers the best I've bowled to'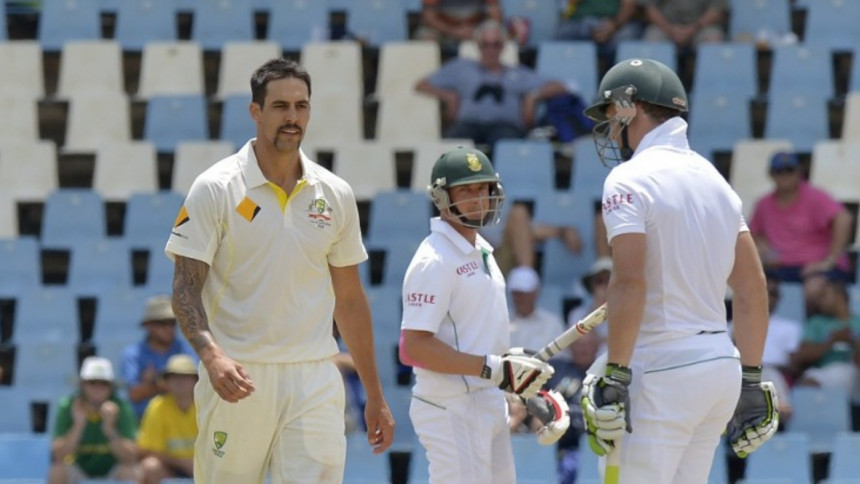 Mitchell Johnson, the former Australia paceman, has rated AB de Villiers as the best batsman he ever bowled to. The 34-year-old is currently playing with the Kings XI Punjab in the Indian Premier League after retiring from international career last November.
Johnson claimed 313 wickets from 73 Tests to finish fourth on Australia's all-time Test wicket-takers list behind legendary bowlers Shane Warne, Glenn McGrath and Dennis Lillee.
Johnson arrived at the international scene in the mid-2000s and his career bookended some of modern cricket's best batsmen. But de Villiers was the batsman the firebrand quick rated as his toughest challenge.
"AB de Villiers was the guy who really stood out for me," Johnson told cricket.com.au on Thursday (May 19). "AB was a guy that was above everyone else for a long period; just how calm he was, he had all the shots."
Johnson enjoyed some of his finest moments of his career against South Africa, regularly tormenting the Proteas. He bagged 64 wickets in 12 Tests at an average of 25 against them. Testament to Johnson's compliment, de Villiers was able to withstand the heat and averaged 66 in Tests against the pacer. Johnson claimed de Villiers' wicket four times (from 21 innings) in Tests.
Johnson also raved about the new breed of great batsmen, such as Steve Smith, Virat Kohli, Kane Williamson and Joe Root.
"Smithy (Steve Smith) was always hard work in the nets," Johnson said. "I never really got to play against him, maybe one or two games. At the WACA bowling against him he played really well. Root was definitely a challenge, and Williamson, I didn't get to see enough of him, but what I did see at the end of my career, he was on his game and really hard to bowl to. He didn't really nick the ball and if he did he had good hands and it always dropped short.
"Virat was always competitive. You always had that challenge coming up against him, that you could have a bit of a go at him and he'd lose it for a couple of balls but then he'd get back on target. He played exceptionally well against us in Australia (during the 2014-15 summer)."
Johnson said the foursome's attacking instincts stood out but believed modern batsmen benefited from flat pitches. "They do have all the shots and they take them into Test cricket," he said.
"That's great because it means the game flows along, there's always something going on. Those guys are all definitely tough to bowl to. But look, I'll say it - they're generally playing in very good batting conditions."