Tigers win by 91 runs against Zimbabwe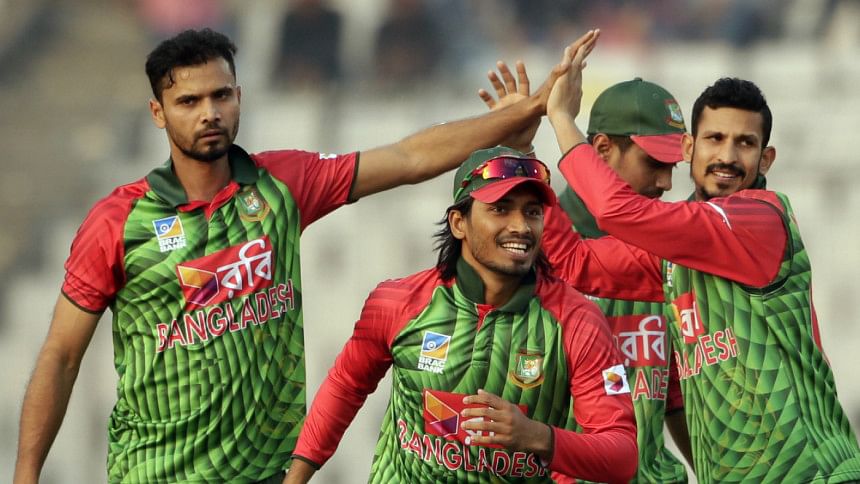 Bangladesh grab their third victory in the tri-nation series as they defeat Zimbabwe by 91 runs.
It has been another dominant performance from the Tigers as they bowled Zimbabwe out for 125 after posting 216 on the board. Tamim Iqbal struck a 105-ball 76 and was awarded the player of the match award. Shakib Al Hasan bagged three wickets to go along with his 51. Mustafizur Rahman bowled economically and took two wickets for 16 runs from 6.3 overs.
36.3 -- Mustafizur Rahim grabs the final wicket as Kyle Jarvis gives a simple catch at mid-off. KM Jarvis c Mahmudullah b Mustafizur Rahman 10 (19b 1x4 0x6) SR: 52.63
35.3 -- Bangladesh's star performer Shakib Al Hasan bags his third wicket as Zimbabwe are nine down for 118. Chatara went for the slog sweep but is holed out at wide long on. TL Chatara c Sabbir Rahman b Shakib Al Hasan 8 (13b 2x4 0x6) SR: 61.53
End of over 35, Zim 117/8
32.3 --Sikandar Raza finally persishes to Mustafizur Rahman as he looked to take the attack to the left armer, having struck a four of the very first delivery of the 33rd over. Sikandar Raza b Mustafizur Rahman 39 (59b 4x4 1x6) SR: 66.10
End of over 30, Zim 95/7
The required run-rate has crept upto 6.10 and Rubel Hossain struck on the 30th over to remove Graeme Cremer, who was stuck in his to a Rubel in-dipper and fell leg-before. Sikandar Raza i s still at the crease but the equation is looking increasingly difficult with only Chatara and Muzarabani to come.
29.1 -- Rubel Hossain strikes in his fifth over to remove skipper Graeme Cremer as Zimbabwe lose their seventh wicket. Rubel gets Cremer. AG Cremer lbw b Rubel Hossain 23 (31b 3x4 0x6) SR: 74.19
End of over 25, Zimbabwe 75/6
It is looking increasingly grim for Zimbabwe because although the run rate was not an issue when they started the chase of 217, it has become one now because they now need 142 runs from 150 balls with just four wickets in hand. The in-form Sikandar Raza, on 25 off 44 balls, is the big hope for Zimbabwe, but the task on a raging turner may prove too much even for him. 
22.5 -- Malcolm Waller comes in and goes for the sweep first ball. The ball pitches on middle and straightens to go past the bat and gloves and thuds into the right thigh pad. It is given out and upon conferring with Sikandar Raza, Waller reviews. However, there was no contact with glove and the ball is shown to be hitting the middle stump. MN Waller lbw b Sunzamul Islam 0 (1b 0x4 0x6) 
22.4 -- A slider from Sunzamul Islam snakes past Peter Moor's bat and strikes him plumb in front, the umpire does not hesitate to point the way. Peter Moor lbw b Sunzamul Islam 14 (42b 1x4 0x6) 
End of over 20, Zim 58/4
Mustafizur Rahman took three maiden overs on the trot with Sikandar Raza on strike in all three overs. Raza played and missed quite a few of deliveries as Fizz is yet to concede a single run after three overs. Moor finally got the strike on Fizz's fourth over and he managed a single on the last delivery of the 20th over.
End of over 15, Zim 53/4
Sikander Raza pulled Mashrafe for six after coming on to bat but he has been watchful since then as Sunzamul Islam and Mustafizur Rahman have troubled the batsmen.
End of over 10, Zim 39/4
9.2 -- Mashrafe is on fire as he removes Craig Ervine with a fine length-delivery to leave Zimbabwe reeling at 33 for four in their chase of 217.The batsmen pushed at the ball and only managed to edge it to Sabbir Rahman at slip cordon. CR Ervine c Sabbir Rahman b Mashrafe Mortaza 11 (15b 2x4 0x6) SR: 73.33
Shakib Al Hasan strikes twice in the same over to remove Solomon Mire and Brendon Taylor as Zimbabwe lose their third wicket for just 20 runs.
Taylor continues his horrid form and leaves Zimbabwe tottering at 20 for three. Bangladesh have started well in their defence of 216.
6.6 -- Brendin Taylor gets stuck in his crease and is out leg-before. BRM Taylor lbw b Shakib Al Hasan 0 (1b 0x4 0x6) SR: 0.00
6.5 -- Solomon Mire bowled by Shakib. SF Mire b Shakib Al Hasan 7 (22b 0x4 0x6) SR: 31.81
End of over 5, Zim 15/1
3.3 -- Skipper Mashrafe Bin Mortaza takes the scalp of Hamilton Masakadza as Zimbabwe lose their first wicket.H Masakadza c Sabbir Rahman b Mashrafe Mortaza 5 (15b 0x4 0x6) SR: 33.33
Bangladesh reach 216 for the loss of nine wickets against Zimbabwe in their third match of the tri-nation tournament.
End of over 50, Ban 216/9
Cremer and Jarvis were the Zimbabwe heroes as they grabbed four and three wickets respectively. Bangladesh were at one point on 147 for the loss of two wickets before Cremer struck to remove Mushfiqur Rahim. Bangladesh went on to lose seven wickets for just 46 runs after it  looked like they would coast to a big total following their bright start. Tamim Iqbal top scored with 76 for Bangladesh.
49.6 -- Fizz opens his arms and picks up the last delivery and whacks it for four through square leg.
49.2 -- Rubel Hossain hits straight down the ground and it's a six.
Bangladesh bring up 200 after Zimbabwe captain Graeme Cremer and fast bowler Kyle Jarvis had caused Bangladesh middle order to collapse.
Sunzamul falls. Sunzamul Islam c Muzarabani b Chatara 19 (24b 3x4 0x6) SR: 79.16
End of over 45, Ban 182/8
42.2 -- Cremer is having a great day and gets his 100th ODI wicket as Zimbabwe remind all and sundry what they are capable of. A sharp leg-spinner gets the outside edge of Mashrafe Bin Mortaza's bat for Brendan Taylor to do the rest. The umpire gives it out, Mashrafe reviews, but Ultra Edge says that there was a snick. Mashrafe Bin Mortazac c Taylor b Cremer 0 (8b 0x4 0x6)
41.2 -- And Jarvis gets his third wicket with a clever slower ball that Nasir Hossain hangs his bat out to and the ball takes the edge before just about carrying to the keeper. Nasir Hossain c Taylor b Jarvis 2 (8b)
End of over 40, Ban 167/6
39.3 -- Three quick wickets now as Sabbir Rahman pulls Kyle Jarvis, but the well-hit shot is superbly caught at short midwicket by Craig Ervine diving to his right an plucking the ball inches from the turf. Sabbir Rahman c Ervine b Jarvis
38.1 --Tamim Iqbal goes down the wicket and misses the line completely. Tamim Iqbal st Taylor b Cremer 76 (105b 6x4 0x6) SR: 72.38
36.1 -- Mahmudullah falls prey to Cremer. Mahmudullah lbw b Cremer 2 (7b 0x4 0x6) SR: 28.57
End of over 35, Ban 147/3
34.1 -- Tamim reaches 6000 ODI runs as he drives Cremer towards long on for a single.
Mushfiqur Rahim falls trying to sweep Cremer but only managed to get a top-edge. Mushfiqur Rahim c Muzarabani b Cremer 18 (25b 0x4 1x6) SR: 72.00
Mushfiqur Rahim looked to assert his dominance as he used the slog sweep to good effect, hitting Waller for six over square leg. Tamim Iqbal then drove Waller for four on the last ball of the same over as the bowler conceeded 13 in the 31st over.
End of over 30, Ban 125/2
Tamim Iqbal reaches his third successive fifty as Bangladesh are 116/2 after 28 overs, following the departure of Shakib Al Hasan,
Sikander Raza has bowled a tight spell and grabbed the wicket of Tamim Iqbal. He finished with figures of 1 for 39 from 10 overs.
27.4 -- Tamim reaches his 50 with a single. 50 off 78 balls.
Shakib tried to push the run rate up following his half-century but he is out stumped off the bowling off Sikandar Raza. Bangladesh lose their second wicket as Shakib goes after a 106-run second-wicket partnership with Tamim Iqbal.
Shakib charges down the track to Raza but misses the line of the delivery. Shakib Al Hasan st Taylor b Sikandar Raza 51 (80b 6x4 0x6) SR: 63.75
25.6 -- Shakib cuts late to bring up his fifty as ball runs away through point for four. That also brings the 100 partnership between the two.
End of over 25, Ban 101/1
24.3 -- Shakib takes a single and that brings up Bangladesh's hundred. Ban 100/1
The two batsmen are looking for the singles as they keep the scoreboard ticking. Sikandar Raza had been flighting the ball well and had beaten the batsmen for flight on a couple of occasion. No boundary has been struck off a spinner.
End of over 20, Ban 86/1
Tamim hit Graeme Cremer towards square leg twice but found Masakadza twice off back to back deliveries. Zimbabwe spinners are looking to dry up the boundaries. The last boundary was hit 38 deliveries ago as both batsmen have remained watchful. 14 runs have come in the last five overs.
End of over 15, Ban 72/1
Tamim Iqbal and Shakib Al Hasan keep things simple after Bangladesh lost opener Anamul Haque early on in the innings.
Muzarbani tries to follow Shakib with a well directed bouncer but Shakib is not one to hold back on playing his shots and he attempted the pull shot. Ball took the top edge and flew away for four.
12.6 -- Tamim pushes it past point and the batsmen run two. That brings up the fifty partnership between Shakib and Tamim. 50 off 65 deliveries.
End of over 10, Ban 45/1
9.6 -- Muzabarani drifts down the leg side and Tamim glances it away through fine leg for four.
Tamim has been watchful and Shakib is going about his innings in customary manner. Shakib drove Chatara past mid off on the eighth over and Tamim followed him up with boundary in the next over as he drove Jarvis through the covers.
6.6 -- This time Jarvis has overpitched and Shakib punishes by driving the bowler for four through the covers. Ban 26/1
6.2 -- Shakib goes hard at Jarvis and ball flies past the man at first slip and races away to the boundary.
Big shout from Tendai Chatara as he slid down the leg side and ball brushed against Shakib's pads. Zimbabwe were confident enough to risk a review but Chatara had overstepped for a no-ball.
End of over 5, Ban 16/1
4.5 -- Tamim rocks back and gets on his toes to place a short length delivery from Jarvis between point and cover. Aerial shot but Tamim had good authority in his timing. Four runs.
Bangladesh lose their first wicket as Anamul Haque is out trapped leg-before off the owling off Kyle Jarvis. Jarvis bowled an excellent first over before his indipper got Anamul to play the wrong line. Shakib Al Hasan is the new batsman at the crease for the Tigers.
Kyle Jarvis gets Zimbabwe the breakthrough as he traps Anamul Haque leg-before. Anamul Haque lbw b Jarvis 1 (7b 0x4 0x6) SR: 14.28
Kyle Jarvis comes into bowl the first over of the day as Tamim Iqbal takes strike. A excellent first over from Jarvis is somewhat ruined as Tamim drives him straight down the ground and the ball ran away for four. That would release some of the nerves.
Bangladesh have won the toss and elected to bat first against Zimbabwe in their third match of the tri-nation series.
Bangladesh go into this match against Zimbabwe having already made it to the final of the tournament. Tigers won their previous two matches against Zimbabwe and Sri Lanka with bonus points – one in each game and have 10 points in total.
This is a crucial match for Zimbabwe who are currently on four points, same number as the Lankans but with a slightly better run rate. The key to their strength is the opening pair of Hamilton Masakadza and Solomon Mire who have the capability of providing a solid start.
Despite already confirming a final spot, the Tigers will want to continue the brand of cricket they have played in the first two games and will not want to lose any of the momentum they have mustered.
Sunzamul makes a return to the side in place of Mohammad Saifuddin. The left-arm spinner did not play in Tigers' last match against Sri Lanka.
Mahsrafe Bin Mortaza suggested that he chose to bat first because Tigers were hopeful of batting in the same manner that they did in their match against Sri Lanka.
Teams:
Bangladesh: Tamim Iqbal, Anamul Haque, Shakib Al Hasan, Mushfiqur Rahim (wk), Mahmudullah, Nasir Hossain, Sabbir Rahman, Mashrafe Mortaza (capt), Sunzamul Islam, Mustafizur Rahman, Rubel Hossain
Zimbabwe: Hamilton Masakadza, Solomon Mire, Craig Ervine, Brendon Taylor, Sikandar Raza, Malcolm Waller, Peter Moor (wk), Graeme Cremer (capt), Kyle Jarvis, Blessing Muzarabani, Tendai Chatara