'Specific roles for everyone'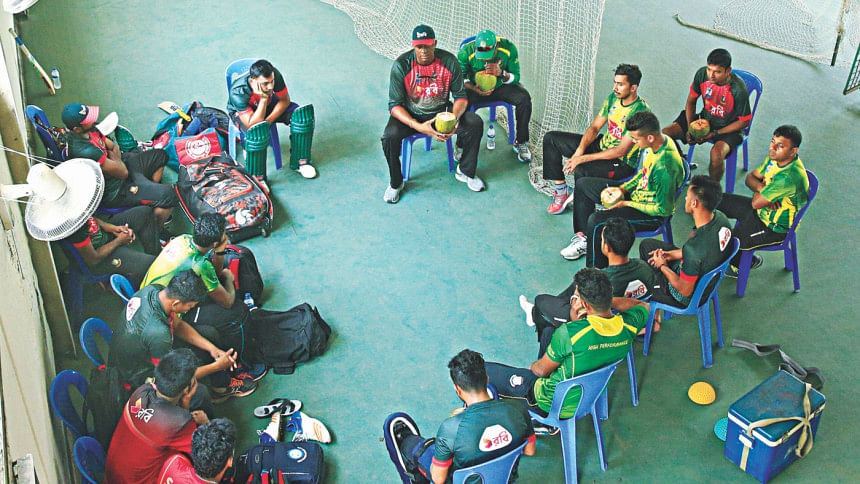 Will Courtney Walsh be able to inject some positive vibes into the national team in the current atmosphere of chaos? Since becoming the specialist bowling coach of the Tigers in September 2016, the West Indies legend is still trying to get the best out of his pace bowlers, so everybody will be eager to see how he, as the interim head coach, guides the side and makes sure that they are focused on their jobs during the upcoming Nidahas Trophy in Sri Lanka.
The 55-year-old Walsh was however very clear about what is required of the team following a forlorn tour of South Africa in October last year and this year's disastrous home series against Sri Lanka which put Bangladesh cricket in complete disarray on and off the field.
"It [his role] is going to be like a father figure, to give them the confidence. We must make sure everybody is prepared for the extra work that we need to do to get those out of form into good form. We have to get everybody thinking that they have to play a role for the team, so that everyone plays for the team and does what is required. It is going to be my motto," Walsh responded to a question regarding his role as head coach for the T20I tri-series while talking to reporters at Mirpur yesterday.
During the conversation, Walsh emphasised on the word ''consistency'' several times and underscored the need to play as a team. 
"We have a very testing tour coming up in Sri Lanka. As one who likes to accept challenges, it is important to play quality and consistent cricket. I am happy to be given the opportunity to do so. I will give it the best shot and ensure we play good, positive cricket.
"We are lacking a bit of consistency. The talent is here. The guys have good work rates. If we can get consistent, we will be happy. It is going to be the biggest challenge, and it is something that I will be stressing on, a lot," he said about the immediate challenge, adding that performing the role of interim coach was not a difficult one for him.
"It is an interim role. We were without a head coach for the last couple of series. I was asked to do the job. It wasn't something that needed a long discussion. I am here. I want to try to do the best for Bangladesh cricket; try to get us to be more consistent. Once the opportunity came, it wasn't anything too difficult to discuss. I want to improve what we are doing here and hopefully take up a challenge," he said.
The West Indian was impressed by the improvement of the players in the special training camp involving pace bowlers and a few batsmen but he wants to see improvement out in the middle. He said it is not one area but all areas that needed work in order to help the team to win games in Sri Lanka.
The BCB president's decision to give the senior players the coaching role in the last series apparently brought no results and when Walsh's attention was drawn to the seniors' roles, he said: "I will try to give everybody specific roles, to carry out their task."
Walsh also said that he would be happy if he can make the same impact as an interim coach as he did as interim captain of West Indies.
 "My first stint into responsibility was as an interim captain. I enjoyed that as we had some success, so if I can transform that here and get the same sort of impetus and mobility going forward, I will be very happy. It is going to be very challenging. But, I will take it one game at a time," said Walsh when reminded of his role as West Indies captain, during which he led his side in 22 Tests and 43 ODIs to win six and 22 matches respectively at a time in the mid to late 90s when the West Indies' decline had started.