No Eid bonus for Tigresses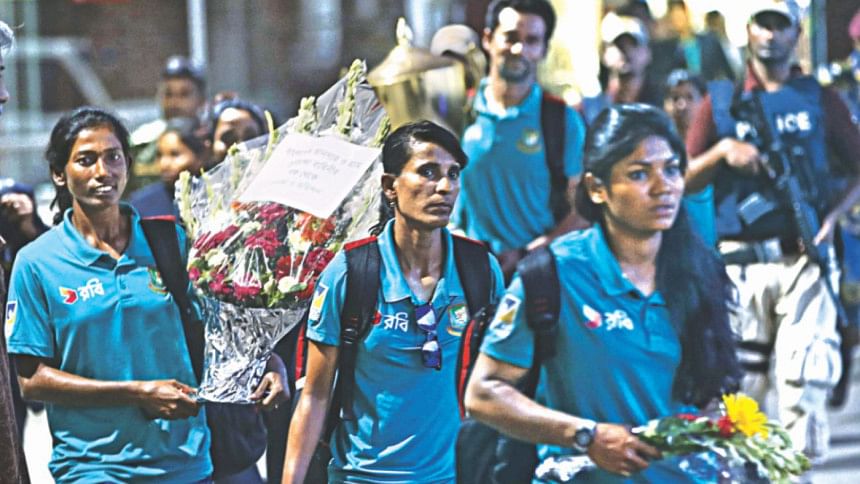 The Bangladesh women's national cricket team ushered in early Eid celebrations by winning the Women's Asia Cup 2018 on June 10 in Kuala Lumpur, but although financial rewards were announced during the ensuing reception in Dhaka, the members of the victorious side had no cash bonuses to take home for their actual Eid celebrations.
The Bangladesh Cricket Board [BCB] has announced Tk 10 lakh each for the members of the side with the overall financial reward package said to be around the Tk 2 crore mark, but it was learned that none of the players received any advance bonus when they left for home after the warm reception.
According to the BCB president Nazmul Hassan the reward check will be handed over by the Prime Minister Sheikh Hasina in a programme after Eid.
"No, we were not able to give them anything before Eid," BCB CEO Nizamuddin Chowdhury told The Daily Star yesterday. "Since the whole reward package is a big sum, around Tk 2 crore, we decided to arrange FDRs for them and that was not possible before Eid."
According to a member of the champion team requesting anonymity, they did not even receive match fees which would have helped them to at least buy gifts for their families.
"We did not receive any cash bonus yet. We were told that we will get that from the Prime Minister after Eid but it would have been great if we had received some amount to celebrate," the cricketer told The Daily Star yesterday under condition of anonymity. Most of the cricketers are not well off.
The BCB's working committee has also proposed a revised salary structure for the members of the women's team, according to which the cricketers will receive between Tk 20,000 and Tk 50,000 per month, whereas previously it was between Tk 10,000 and Tk 30,000.
"To be honest we had no idea about the salary or even about the contract with the BCB as I used to receive a sum after three-four months as salary," the cricketer added.