Wrist-spin promise to the fore?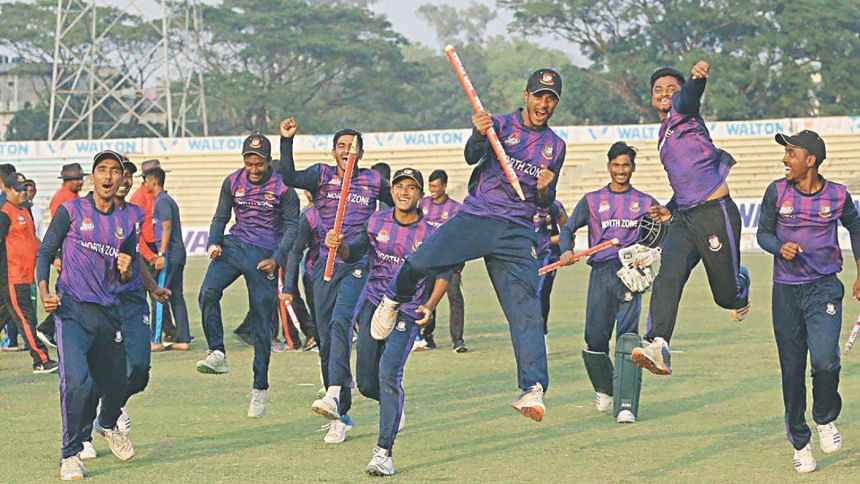 Perhaps a leg-spinner is the last piece of the puzzle that could provide more balance to the Bangladesh squad. In that regard, Bangladesh could be hopeful about completing that jigsaw sometime in the near future as it was a leg-spinner -- North Zone's Saidul Islam Pramanik -- who shone the brightest in the one-day version Youth Cricket League (YCL) final, helping his side become champions with an 11-run win over East Zone at the Shaheed Kamruzzaman Stadium in Rajshahi yesterday.
After being sent in to bat, opener Anik Sarker's 51 and batsman Meherab Hossain's 68-ball 61 in the middle led North to a respectable 219 for eight. However the day belonged to Saidul, who proved that a leg-spinner can be vital in times of need, registering match winning figures of five for 28 in 10 overs.
While speaking to The Daily Star, tournament coordinator Shafaq Al Zabir held the young bowler in high regard, insisting that this edition of YCL saw some talented leg-spinners.
"Today the player [Saidul] who won the player-of-the-match award was also a leg-spinner. Like him, there were one or two leg-spinners in almost every team. Maybe, not all of them took many wickets in the tournament but they bowled really well."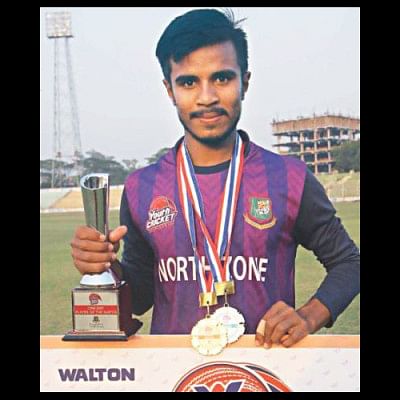 Another boon of the tournament could be how competitive the competition was, with the final itself being the biggest indicator. It was a 59-run 10th wicket partnership between East batsmen Abu Bokkor Jr and Mehedi Hasan that almost saved the day for their side before the latter was dismissed after scoring a heroic 36-ball 32 at the death. However, despite efforts from tail-enders, East fell short, managing just 208 in 49.2 overs.
Zabir was also in awe of the young players' dedication and hailed their fighting spirit.
"It was a very good, competitive tournament. For instance, if you look at today's game, you can see that after North Zone set a 220-run target, the last-wicket partnership [East's] was more than fifty runs and that took the game very close. Like this, there was heavy competition in almost every match. The tournament even saw 260 runs chased down by the youngsters," he said.
While the previous editions of the YCL in 2016-2017 saw a T20 tournament held alongside the mainstream longer-version event, this, the third edition, was the first time the one-day version was introduced. Zabir explained that there was a special reason behind the change.
"We want the players to play all versions but as there is the Under-19 World Cup on the horizon, we arranged for a one-day version alongside the longer-version this year."
Although it seems a bit early to tell yet, the exciting prospects found at this level could enrich the current Under-19 squad  and make for an exciting Under-19 World Cup, which will held in January-February 2020 in South Africa.
SCORES IN BRIEF
NORTH ZONE: 219 for 8 in 50 overs (Anik 51, Meherab 61, Leon 38; Avishek 2-37, Bokkor Jr 2-25)
EAST ZONE: 208 all out in 49.2 overs (Alvi 59, Bokkor Jr 28, Mehedi 32; Saidul 5-28, Tareq 2-34)
Result: North Zone won by 11 runs.
Player-of-the-match: Saidul Islam.